| | | |
| --- | --- | --- |
| | Wrath Unleashed | |

Wrath Unleashed
Published by: TheModGod on 2004-05-04
Page Views: 3795
Rating: 8/10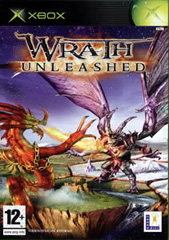 Lucas Arts strikes again with Wrath Unleashed, an action-strategy title that has you assuming the role of a demigod attempting to take the thrown of Gaia and rule over the world. With your minions by your side you will wage war against 3 other demigods through hand to hand combat, strategic maneuvering and raw magic power. Secure key locations, build your magic ability, and lead an assault against all who stand in your way. Will you lead your vicious army to victory and claim the thrown for yourself, or will you fail and forever live in servitude.

The game play in Wrath Unleashed is broken up into two separate systems; the first is the turn based strategy portion that allows for strategic maneuvering and placement of your army. As your army begins to secure more locations your enemies' army is attempting to do the same, and soon the battle erupts. The second system of game play takes place when your armies meet in battle; you are soon teleported to an arena based on the land type the two units were on. Your minions are to now do battle on a 3d arena that you control, no longer the turn based game play, the fierce battling becomes a 3d fighter with the winner emerging with the damage taken in the battle and securing the land for this demigod.

Since the turn based portion of the game is where you will most likely spend most of your time, it will be what we tackle first. The map is broken up into octagons for movement, and only one unit can be on a location at once, though some units may pass through other ones to get to a location. Each piece of land on the map is made up of a land type that will give an advantage to the monster that is made up of one of its elements, for instance a water monster will have an advantage on ice, since ice is made up of wind and water. In total there is 9 land types; mountain, glacier, swamp, ethereal, plains, dead, lava, sea and desert. If a slight advantage is needed, units that can cast magic are given the ability to change the land type into something more favorable for their team, allowing you to pave the way for your units.

Beyond simply worrying about the land types, your units are of the most concern. Not all are created equal, and you may prefer some weaker ones because of their fighting ability. When choosing which units to move you should consider how far they can move on the map, as some such as unicorns can simply walk across gaps, and some such as Cyclops can travel further distances. Before you actually pick a unit to move or cast, you can place the cursor over them and an outline will show with the max distance they can travel in one turn. Placing units for fast response time or placing them on locations such as temples so they cannot be targeted by magic is key in winning wars.

Structures such as temples are the most important aspect of the turn based portion of Wrath Unleashed. There are 5 types of structures that all have their own benefits to securing on the map. The most important of all the structures are the temples spread throughout the land. Capturing a certain number of temples around the map is one of the two ways you can win each battle; the other is by slaying the other demigods on the map. The mana vat is probably the second most important unit as it allows you to build up mana to cast spells such as transform land, resurrect, wrath, summon elemental etc. The portals and nexus points are structure that are more likely to be used then to stay captured, the portals are setup to allow you to move about land masses quickly when they are all disconnect from each other and nexus points give an advantage to the player that is able to capture them all first. The advantages to capturing the nexus points first varies, it may be seeing where the magic amplifier is or land may appear bridging a gap, allowing for easier maneuvering for your units.

With the turn based portion complete comes the fighting / action half of the game. The fighting in Wrath Unleashed is relatively simple; your units when located on the same location are transported to an arena to do battle. The arena they battle on is equivalent to that of the piece of land they were doing battle on. Each unit has a heavy and light melee attack as well as a heavy and light magic attack, and a special magic ability that varies by creature. The land benefits of each unit comes into play here allowing them to take less damage when hurt by traps on the level and their opposing unit to take more, giving them an obvious edge. Another benefit certain units have is that they are not restricted by gaps in the land, allowing a genie to hover over a location a unicorn cannot get to and blast away with magic from there.

The fighting portion unfortunately is what takes the strategy out of the turn based portion. While a unit may be stronger then another as well as have 2 times more health, it doesn't mean they will win. I have lead many Unicorns, which are the weakest of units in your army, against many Cyclops and even demigods to victory or near victory. The fighting portion of the game does not seem to be entirely balanced with a quick unit constantly doing a light melee attack being able to defeat a slower unit almost without taking any damage. Picking a unit you know you can fight with is almost more important then picking a strong unit or healthy one.

The controls in Wrath Unleashed are simple and to the point. It may however take some time to get used to as you are essentially playing two different genres at the same time. The turn based portion is simple and is made up of directing troops by pressing the A button to select and the A button again to direct the unit, occasionally hitting X to use portals. The fighting portion is more complex, though simple if it was to be compared to other fighters on the market. The creatures contain a light and heavy melee and a light and heavy magic attack each corresponding to a button, analogues controls handle movement and the two triggers are for special attacks and dodging. A simple approach and well appreciated as a complex strategy game and a complex fighting game may be more then an average player can handle. Below is a rundown of the controls during fighting and turn based portion:

Fighting:

R Trigger: Block / Strafe
L Trigger: Special Magic
X Button: Heavy Melee
Y Button: Heavy Magic
A Button: Light Melee
B Button: Light Magic
Left Analogue: Movement

Turn based:

A Button: Select Unit / Location
X Button: Enter Portal

With the action in Wrath Unleashed being broken up into two categories, the graphics must also be discussed in two separate sections. The turn based portion of Wrath is nicely done, the floating land mass your armies wage war on is impressively modeled and each land type is nicely shown, though swamp and forest look identical. The representation of your creatures and yourself are also nicely detailed, they are animated when moving to different locations and when stopped they pause like statues; though even while paused they still give off particle effects. One of the nicely detailed effects is when a sea land masses is next to an empty mass the water will run off of the map, falling into the void below.

The fighting portion of the game takes place as previously mentioned in the arenas. Each area is a nice representation of the type of land mass it is, however they are a little on the empty side. Each arena contains objects you can interact with, such as slamming your enemy into or tossing at them. Spikes that tear through the floor and other hazards are also on the levels and carry a decent look. While the spikes are very simple, the blasts that crash down from above look impressive. The character models in fighting mode are also very well detailed and animated for their fighting moves, complete with flames erupting from their heads or gliding above the ground on a cloud of mist. The variety of mythical creatures in the game and their different fighting moves and animations is a nice addition. In total both the turn based and fighting portion of the game from a graphical view are exceptionally done.

The audio in Wrath Unleashed is done nicely throughout. The voice acting matches each of the 4 demigods nicely, giving them a sense of personality to go with their design. The creatures once in the arena do all have a nice range of battle sounds they make when fighting, with a Fire Giant sounding completely different then a Spirit Armor. While on the map view in turn based mode the monsters however sound repetitive if you have view battles off, though not to the extent where it becomes annoying. In all the background sound, war cries and screeching deaths are a bonus and the audio team at Lucas Arts deserves a thumbs up for their wonderful work.

There is much to do after beating this game just once; completing a certain number of arena battles will allow you to unlock two other arenas that were not previously available. In addition for each teams set of 4 campaigns that you complete you unlock their respective god. Setting aside the nice unlockable features you also have the ability to play Wrath Unleashed as simply a fighting game if you wish and remove the turn based portion all together or vice versa by shutting off the arena battles in options. Shutting off the arena battles will have the computer calculate damage, taking equal damage away from each creature when no land advantage is present. Thanks to the customizing options you can play up to 4 player battles with or without arena combat or simply go at it one on one in the arenas with any of the creatures available, giving you more then enough reasons to keep Wrath Unleashed in your Xbox.

After playing this game for many hours I was left with one annoyance, my unicorn was just too strong. With arena battles turned on it was almost too easy for the quick unicorn to slay even the strongest of beasts with a simple light melee attack. If more work had been put into balancing the combat portion of the game Wrath Unleashed would have received almost a full point higher score for being a complete title. The flaws in the combat portion unfortunately leave it feeling as it tried to do too much and just did not do it all correctly. I find myself now leaving the battles off as I feel it stripped away the enjoyment of the turn based strategy, though I expect others may enjoy the arena battling more and leave it on. When all is said and done Wrath Unleashed is an exceptional title that has taken the turn based strategy genre and given it a boost in the right direction.


Back to Xbox Reviews Index | Post Comment


| | | |
| --- | --- | --- |
| | Comments Available for Wrath Unleashed | |
| | | |
| --- | --- | --- |
| | Xbox 360 Screenshots | |
| | | |
| --- | --- | --- |
| | Related Xbox 360 Cheats for Wrath Unleashed | |
| | | |
| --- | --- | --- |
| | Related Xbox 360 Reviews for Wrath Unleashed | |
| | | |
| --- | --- | --- |
| | Related News Articles for Wrath Unleashed | |

| | | |
| --- | --- | --- |
| | Members Online (6) / Guests Online (825) | |


| | | |
| --- | --- | --- |
| | Xbox Download Stats | |

| | | |
| --- | --- | --- |
| | Popular Xbox Games | |
Sonic Heroes
Page Views: 292096

SEGA's legendary mascot Sonic The Hedgehog makes his historic multi-platform debut and embarks on his biggest adventure ever, with his trademark blazing speed and a new gameplay twist in "Sonic Heroes..

More Xbox Games

| | | |
| --- | --- | --- |
| | HQ Network Affiliates | |