| | | |
| --- | --- | --- |
| | Alias | |

Alias
Published by: TheModGod on 2004-04-11
Page Views: 5115
Rating: 6/10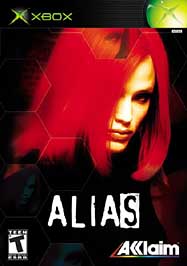 First off I am a huge fan of the show, so this was a must game for me. I thought I would be a little bias, but all in all this review is honest. I was very pleased to hear that JJ Abrams and other writers of the series were going to pen the story line.

The first thing that will impress you is the character likeness. The game just all out looks and sounds great. As far as catagorizing the game, I would have to say this is a stealth, shooter, fighting, and mystery game all wrapped up into one. One feature that you will love and maybe hate at the same time is how Syd aquires weapons. I thought it was odd that she doesn't start the game with a gun already. The only way you can aquire a gun is to kill someone who has one. That was just odd. But, on the bright side you can interact with a lot of different things in various rooms. In a kitchen? Grab that frying pan and give the bad guy a whack he will never forget!

The camera angles and motions are perfect and contols are easy to get used to. The storyline was superb and one would think if you add that to all of the great characters, the awesome graphics, and sound you would have a great game. I just feel that this game falls short of the high expectation I had for it. I do not feel there is any replay value to this game at all. It's one of those games where once you start playing, you just want to finish it and trade it in on something else. Now, if I could have played as another character after finishing with Miss Bristow...then hey, you got something there. My advice is rent it first. If it's you bag, then buy it!

Because of the awesome graphics and my love for the series, I give this puppy a 6 out of 10. I just could have been better.


Back to Xbox Reviews Index | Post Comment


| | | |
| --- | --- | --- |
| | Comments Available for Alias | |
| | | |
| --- | --- | --- |
| | Xbox 360 Screenshots | |
| | | |
| --- | --- | --- |
| | Related Xbox 360 Reviews for Alias | |
| | | |
| --- | --- | --- |
| | Related News Articles for Alias | |

| | | |
| --- | --- | --- |
| | Members Online (8) / Guests Online (522) | |


| | | |
| --- | --- | --- |
| | Xbox Download Stats | |

| | | |
| --- | --- | --- |
| | Popular Xbox Games | |
Neighbours From Hell
Page Views: 343827

Neighbours From Hell challenges players to solve hundreds of puzzles in order to play the best prank possible in this hilarious animated adventure...

More Xbox Games

| | | |
| --- | --- | --- |
| | HQ Network Affiliates | |