| | | |
| --- | --- | --- |
| | Destroy All Humans! | |

Destroy All Humans!
Published by: forahobby on 2005-06-01
Page Views: 7248
Rating: 8/10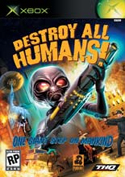 Unlike most games where you are fighting aliens, this game has somewhat a twist. Instead, you are a space alien called Cryptosporidium 137. During a mission to earth a fellow alien's ship flys too close to a military base and is accidently shot down during a missle test launch. The remains of the ship and aliens are taking to Area 41 (I guess they didn't want to pay royalties to anything related to Area 51..lol). Crypto's main mission is to bring back as much human DNA as possible (along with having to do a few other things). So, with this information at hand, let's talk about control, graphics and gameplay.

Using your ray gun or other special gifts (such as the ability to move objects with your mind) you can collect your human DNA throughout a very open end style of play. You can look at youself as a alien Tommy Vercetti. Your ray gun has various settings and you can move just about anything using your telekenetic abilities. You must also try to stay out of site as much as possible as you do not want to alert the authorities of your presence. You can use a special feature that allows you to project the image of a human so you can mingle aimlessly with other human beings.

Weapon upgrades are abound and can be obtained by visiting the mother ship. Just exchange human DNA for whatever pleases you. Whether its upgrading your weapons or your space ships abilities...you have many choices to go over! Moving around from area to area is relatively easy using your jetpack and every level has mini-games so ionizing humans and watching their brains hop out of their head is less likely to become mundane. This game is considered a third person shooter, but in reality it is also a stealth game as you must do all you can to not be recognized by any humans that you may be near. Graphics and sound are better than average. The voice acting is very good and the sound effects are plentiful. The scenery is excellently done and the graphics are what you would expect to see from the Xbox console. If video games were also rated on humor, this game would rate highly. As a matter of fact the humor is better than the graphics and sound combined. It isn't too hard of a game to play either. Unlike some games that require manuals, walkthroughs, and extreme coordination, Destroy All Humas is the type of game that you can just pick up the controller and roll. It's a better than average game for a console that is sad to say, pretty much on its last leg.

Gameplay = 4 out of 5 stars
Graphics and Sound = 4 out of 5 stars
Humor = 5 out of 5 stars
Camera views = 3.5 out of 5 stars
Overall = 4.2 out of 5 stars. Definitely worthy if you like senseless fun. There are no mysteries to solve, no hidden easter eggs to find...just fun senseless gaming.


Back to Xbox Reviews Index | Post Comment


| | | |
| --- | --- | --- |
| | Comments Available for Destroy All Humans! | |
| | | |
| --- | --- | --- |
| | Xbox 360 Screenshots | |
| | | |
| --- | --- | --- |
| | Related Xbox 360 Cheats for Destroy All Humans! | |
| | | |
| --- | --- | --- |
| | Related Xbox 360 Reviews for Destroy All Humans! | |
| | | |
| --- | --- | --- |
| | Related News Articles for Destroy All Humans! | |

| | | |
| --- | --- | --- |
| | Members Online (14) / Guests Online (893) | |
Members Browsing
Orion8472, MaurineEsc, CurtWestbu, FelipaCroc, MerryRodri, Zakkur, ArielHendr, CarmeloWal, MapleHolle, RayLyell85, SlackValerie, Vernita859, xbmcmodsforxbox, LarryDinah,




| | | |
| --- | --- | --- |
| | Xbox Download Stats | |

| | | |
| --- | --- | --- |
| | Popular Xbox Games | |
Xbox Music Mixer
Page Views: 339694

Take the party to the next level with Xbox Music Mixer. With the first alternative entertainment title for Xbox, aspiring singers, VJs and party hosts have the opportunity to personalize their music e..

More Xbox Games

| | | |
| --- | --- | --- |
| | HQ Network Affiliates | |