| | | |
| --- | --- | --- |
| | Theif: Deadly Shadows | |

Theif: Deadly Shadows
Published by: TheModGod on 2004-05-30
Page Views: 3377
Rating: 8/10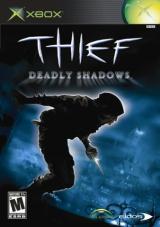 In Thief: Deadly Shadows players are tasked with saving the world from an impending dark age. As in the original game, stealth, character choices, weapons and tools work in combination with a richly interactive world to give players freedom to solve game problems the way they want to, rather than simply figuring out the path game designers had intended. Gamers can sneak, club, distract or kill their way past any problem encountered within the game world.

I have yet to make it very far in this game, but have already formulated my opinon on it's gameplay, graphics, and all around enjoyment. Like most stealth games, Thief: Deadly Shadows requires more patience/smarts than skill. The game starts off in a type of training mode. This is a good thing and I highly recommend not skipping it. It get's you acquainted with weapon/gear selection not to mention their uses. Button configuration is fine and I found no problems having to quickly equip myself with a different weapon or tool. This game very much reminded me of Splinter Cell right down to the lockpick use.

Graphically there isn't anything to write home about, but the lack of cut scenes and bigtime cinematography is actually a nice break. In a time where developers are trying to wow us with graphics, it's nice to be wowed with story and content. I was however surprised that Xbox's capabilities weren't further utilized. The screen shots for the PC version are so much cleaner than what you see on this console. The open ended gameplay is very nice too. You can cut straight to your objective or take some time to stroll around and see what riches you can stow.

The A.I. seems to be an upgrade versus a lot of other stealth games I have played. When you shoot a noise arrow to distract a guard, they tend to be a little smarter in this game. They will do much more investigation making you execute sound judgement in your next move.

My advice is definitely give this game a shot. Enjoy making your own choices instead of following a linear plan that the developer has set forth. But remember, your decisions will effect you character greatly. Choose wisely.


Back to Xbox Reviews Index | Post Comment


| | | |
| --- | --- | --- |
| | Comments Available for Theif: Deadly Shadows | |
| | | |
| --- | --- | --- |
| | Xbox 360 Screenshots | |
| | | |
| --- | --- | --- |
| | Related Xbox 360 Cheats for Theif: Deadly Shadows | |
| | | |
| --- | --- | --- |
| | Related Xbox 360 Reviews for Theif: Deadly Shadows | |

| | | |
| --- | --- | --- |
| | Members Online (8) / Guests Online (832) | |


| | | |
| --- | --- | --- |
| | Xbox Download Stats | |

| | | |
| --- | --- | --- |
| | Popular Xbox Games | |
Wreckless: The Yakuza Missions
Page Views: 288836

This car action game gives players the choice of about 10 cars to cruise the town with. You, the player, will be able to destroy objects while racing 180km/h down the streets. The game includes Kowloo..

More Xbox Games

| | | |
| --- | --- | --- |
| | HQ Network Affiliates | |