| | | |
| --- | --- | --- |
| | Otogi: Myth of Demons | |

Otogi: Myth of Demons
Published by: TheModGod on 2004-05-22
Page Views: 3460
Rating: 7/10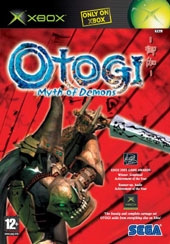 Otogi is a new mythological Japanese game developed by From Software. You take on the role of Raikoh, a samurai who was almost killed but saved by a princess, purifying the lands that you cross battling creatures with the help of magic and a variety of swords.

While the game might get repetitive as a hack and slash early on, there are some things that make it interesting as you continue to play. To start, you will be collecting gold along your journey. The gold can be used to purchase weapons, accessories, or magic. There is a fairly large selection of weapons and a nice amount of everything else but you don't have everything available to you at the start. Some things must be earned and some things bought. And not much will be available to purchase at the star, either.

Once you have several items in your inventory, you can then only equip one of each of your items. This allows for some strategy on your part. Different weapons will have different stats and different magic powers will do things differently. Along with that, you can also repair your weapons to make sure that they are at their maximum potential. Of course this costs gold as well. One other thing about weapons is that heavier weapons will prevent you from jumping as high as a lighter weapon. As you can tell, there is more depth to this game than just being a hack and slasher.

The controls are pretty easy to learn and work out nicely. It might take a little longer to do some good combos but you'll eventually be able to rack them up. You are also able to use magic to help string combos together. One thing that you will find yourself using is the right thumbstick to move the camera around as Otogi faces the usual camera problems in 3'rd person games. One nice thing that was included is a 'lock on' feature that will allow you to lock onto an enemy and Raikoh will always face that enemy until you click it off. This is especially good for magic.

Otogi features a large amount of destructability. Nearly everything found in the game, excluding land, can be destroyed. And I'm talking about trees, walls, and even entire buildings. What's also cool is that you can do a heavy attack on an enemy and they will go flying backwards and if a wall or object is behind them they will fly through it and destroy it. In fact, you are encouraged to destroy things to release human spirits. You don't know what objects or buildings the spirits are trapped in so you must destroy everything to find them all.

An interesting twist in the game is that your magic and health are intertwined. In fact this will probably sound confusing when you read this. You magic is depleting as time goes by and will deplete more if you use your magic. If your magic is fully depleted, your life will start to deplete over time as well. You will be able to increase your magic power by obtaining special stone or killing enemies. This gives the game a timer without actually having a timer as you have to race against your magic/life depletion. This further separates itself from a simple action game.

Otogi features some nice graphics all around. The game features great lighting and excellent character designs. The demons and creatures found in the game look splendid and interesting. Buildings and the levels all look great. The only thing I really didn't care for is that the rubble didn't look all too great when you knock down a building or an object. Sometimes it would look like pieces are partially floating a little bit in the air. The framerate is fairly smooth and there really isn't anything that takes away from the gameplay.

Otogi takes advantage of Xbox by utilitzing 5.1 Surround Sound. While you won't find a whole lot of sound effects in game, the music really adds to the game. The game takes place in ancient Japan and the game is also from Japan and the music compliments that. It's really hard to describe the music and how it helps put you into the game but it does. It just sucks you in when you hear it during the Main Menu. There really isn't anything else in the sound department that is really worth mentioning, however.

As I've already mentioned, this isn't just a hack and slash action game but has more depth to it. The thing is that it still does get repetitive. Maybe if the different weapons can perform different moves it can spice things up a little more. For those that like to collect everything and get 100% on your games, you will be pleased to know that you can go any previous level and play it over again, adding to the replay value. While there are some things that can use some improvements, Otogi is really a fun game that looks, sounds, and play well.


Back to Xbox Reviews Index | Post Comment


| | | |
| --- | --- | --- |
| | Comments Available for Otogi: Myth of Demons | |
| | | |
| --- | --- | --- |
| | Related Xbox 360 Cheats for Otogi: Myth of Demons | |
| | | |
| --- | --- | --- |
| | Related Xbox 360 Reviews for Otogi: Myth of Demons | |

| | | |
| --- | --- | --- |
| | Members Online (4) / Guests Online (218) | |


| | | |
| --- | --- | --- |
| | Xbox Download Stats | |

| | | |
| --- | --- | --- |
| | Popular Xbox Games | |
Metal Slug 3
Page Views: 300458

In addition to everything that made the arcade original a worldwide hit, the Xbox version of METAL SLUG 3 will have some brand new features and original missions accessible once you've cleared certain..

More Xbox Games

| | | |
| --- | --- | --- |
| | HQ Network Affiliates | |