| | | |
| --- | --- | --- |
| | Tiger Woods PGA Tour 2003 | |

Tiger Woods PGA Tour 2003
Published by: forahobby on 2004-05-18
Page Views: 2665
Rating: 6/10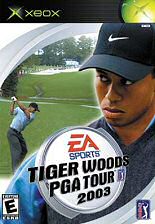 Tiger Woods makes an impressive landing to the Xbox with Tiger Woods PGA Tour 2003. The game surprised me as I saw the game recieve some high scores but didn't think a golf game could be that great. Of course if you don't like golf at all, then there is still no reason to think about trying this out as it is still golf. I'm not into golf that much, but I don't hate it either, and I was very much hooked on this game. The game has debateable graphics, but mostly on the good side. The players are nicely modeled, but to get picky the developers could have spent more time rendering the players hair. The character animations are also very well done and are smooth. You will notice plenty of facial animations as they blink and line up the ball with the hole. All in all though a lot of the graphics are very inconsistent. Somethings seem to blow you away, as others are perpetually mundane. Take the trees for instance. This to me, is a pretty important graphic to get right. But, it seems as if they took a coffee break on this one. They will blow in the wind, but they just don't look as nice as some of the other graphics. The water varies a lot as they try to make the water look different in different areas. The effect, however comes off pretty bad. In once instance I could not discern water from a sand trap. So while there are a couple things that could use some better touches, the overall graphics come off just above adequate.

The game does have some collision detection problems. The one that will be seen most often is when you are shown a scene of your player automatically putting the ball in with the other end of the club like a pool stick. The club is shown going partly through the green. Another instance is when an old man missed his putt and had a heart attack on the green. He ended up landing half way through the green as well. Besides this animated scenes, there is also some collision detection problems when you are close to a wall. I once hit the ball a little too hard and it landed close to a brick wall. I ended up being mostly on the wrong side of the wall and part of me on the correct side. I then swung and hit the ball like the wall was never there.

Tiger Woods PGA Tour 2003 features plenty of modes to play and keep you busy. There's skillzones, tournament play, match play, and speed golf. There are also variations of the modes in there. You are sure to keep busy whether you are solo or with friends. The only thing missing from the game is Live play. The PC version has 60 days of free online play but you must pay monthly after that. And with EA not supporting Live yet it looks like we will have to make do with what we are given.

The game progresses as you earn money through the different modes. The money then allows you to increase your stats in different areas like power and putting. Increasing your stats allows you to upgrade your clubs and balls. So increasing your power stats to 50 will upgrade your shaft. The next step is at 75. The catch is that the cost of stats increases as you buy more. This gives the game more depth and adds a sort of an RPG feel to it.

The controls are done very well and give you good control over your swing going for a simulation approach. The joystick mimicks your swing; as you pull back on the joystick, the player takes his backswing and when you push forward, the player swings forward. And there is more to it once you get used to that. When you doing your backswing, you can get additional power by rapidly pressing the white button as much as you can. Once the ball is in the air, you can give it some spin by tapping the black button as much as you need to and pushing the joystick in the proper direction. If this sounds confusing at all, it really isn't and is easy to get used to.

Tiger Woods features good sound effects that fit in nicely. You can hear the wind blowing and the crowd cheering. There are also announcers that are pretty good but end up like any other game. The game doesn't feature that big of a soundtrack, however, meaning you will probably hear repeats fairly often. And to make it worse, there is no option of a custom soundtrack. Luckily you can turn off the music and the announcers and play it like you were actually on the course with just nature and the crowds. With Tiger Woods 2004 now being offered, this game is a hard sell. If you find it used, it is probably not a bad buy to add to your library.

Overall, Tiger Woods' latest game is the best golf game that I have ever played. It does a great job at creating a golfing sim with some arcade elements. There are, however, some things that could use some changing and improving. Live play would've been nice, but it would've had a price as well. There is a Sega Sports Challenge like feature that allows you to compare records with other around the world. This game would've been even better if it would've taken full advantage of the Xbox. In any case, this is a golf game that should not be passed by in the store.


Back to Xbox Reviews Index | Post Comment


| | | |
| --- | --- | --- |
| | Comments Available for Tiger Woods PGA Tour 2003 | |
| | | |
| --- | --- | --- |
| | Related Xbox 360 Cheats for Tiger Woods PGA Tour 2003 | |
| | | |
| --- | --- | --- |
| | Related Xbox 360 Reviews for Tiger Woods PGA Tour 2003 | |

| | | |
| --- | --- | --- |
| | Members Online (6) / Guests Online (726) | |


| | | |
| --- | --- | --- |
| | Xbox Download Stats | |

| | | |
| --- | --- | --- |
| | Popular Xbox Games | |
Neverend
Page Views: 243260

Discovering the background of Agavaen, an ancient fairy with broken wings, and determining her final personality is one of the main purposes of the game, which continuously appears as the principal pl..

More Xbox Games

| | | |
| --- | --- | --- |
| | HQ Network Affiliates | |