| | | |
| --- | --- | --- |
| | The Incredible Hulk | |

The Incredible Hulk
Published by: TheModGod on 2004-04-26
Page Views: 2283
Rating: 6/10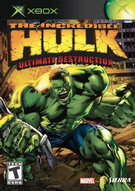 Comic book properties seem doubly cursed. Many of you immediately had the words Superman 64 just now flash through their minds, sorry to dredge that image up. Superheroes somehow don't seem to translate into interesting games, with an overall track record that desecrates their name and reputation more than Lex Luthor or Dr. Doom could muster on their best day. As if Batman hasn't suffered enough rubber-nipple indignities at the hands of director Joel Schumacher that he's got to be trotted out every so often in a terrible game that makes you wish you'd have spent that $50 on getting the Bat-Signal tattooed on your unmentionables instead.

Spider-Man: The Movie broke that stigma with a game that was not only faithful to the spirit of the character, but technically impressive, as well, and developer Radical Entertainment's The Hulk is lumbering close behind. Like Treyarch's web-slinging outing, Radical manages to capture not only the essence of the Jade Giant, but serves up one of the best digital representations of comic book-inspired action to date.

Unfortunately, they also fell prey to some uneven design problems late in the game and the more recent affliction called Wachowski Syndrome, or, in layman's terms, "What the heck does a crappy Driver clone have to do with busting caps in Bullet Time?" It's not a terminal case of ills, but it's enough to keep The Hulk just shy of a must-play designation.

Graphically, The Hulk comes out a winner with a unique visual style that's fairly realistic, yet uses a variation on cel-shading to really enhance the larger-than-life comic book vibe: it's a perfect fit, as well as a good technique that helps to overcome some of the issues of a multiplatform game, where the graphics often come off as muddy and bland as a result of not wanting to tax any hardware too heavily. Eric Bana reprises his role from the film as the voice of Bruce Banner, which doesn't seem to add quite as much to The Hulk as, say, Tobey Maguire's efforts on Spider-Man: The Movie, but Bana is a very capable actor and the performance is at least top-notch.

I never was the world's biggest Hulk fan, but I enjoy the character enough to have had a good time here, and there might even be a fun time to be had if you simply rented the game and punched in the invulnerability code at the get-go and simply experienced it as a sort of pseudo-interactive movie - I think you'll have a better time here than simply being a passive viewer of the so-so, flawed feature film.


Back to Xbox Reviews Index | Post Comment


| | | |
| --- | --- | --- |
| | Comments Available for The Incredible Hulk | |
| | | |
| --- | --- | --- |
| | Related Xbox 360 Cheats for The Incredible Hulk: Ultimate Destruction | |
| | | |
| --- | --- | --- |
| | Related Xbox 360 Reviews for The Incredible Hulk: Ultimate Destruction | |
| | | |
| --- | --- | --- |
| | Related News Articles for The Incredible Hulk: Ultimate Destruction | |

| | | |
| --- | --- | --- |
| | Members Online (7) / Guests Online (601) | |


| | | |
| --- | --- | --- |
| | Xbox Download Stats | |

| | | |
| --- | --- | --- |
| | Popular Xbox Games | |
Jonny Drama
Page Views: 232801

Jonny Drama is a spy action/adventure game, featuring a 4-player split screen multi-player mode with both characters and vehicles. Feeling something like "Metal Gear Solid meets early James Bond", Jon..

More Xbox Games

| | | |
| --- | --- | --- |
| | HQ Network Affiliates | |