| | | |
| --- | --- | --- |
| | Enter The Matrix | |

Enter The Matrix
Published by: Jeff McCloy on 2004-04-26
Page Views: 4050
Rating: 7/10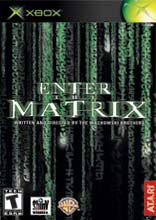 Enter the Matrix is one of the most unique games that comes from a movie. For one, the Wachowskis are the ones that made the story and came up with how the game would be told. So when you hear that the game is short, it wasn't Shinys doing because it was how the Wachowskis wanted it. Another thing that is different about this movie-game is that it isn't an adaptation of Reloaded, but rather an original side story featuring two characters that have little air time in the movie. And to make things even more interesting, you choose to play as either Ghost or Niobe and should really play as both to get through full game. So can Shiny keep the bullet time effect fresh after several games have already utilized it?

One of the first things that people will complain about in Enter the Matrix are the controls. They will take a little bit of time to get used to but they do end up being fairly good. The only problem is that they waste the right thumbstick by making it first person view. It could have been used for camera control instead. That would have been useful since many also complain about the camera (in which I'll get into a later on). They also make 'Black' the fire button instead of trigger, causing some awkewardness at first. Of course they do allow for some control config for those that are unable to adjust.

The graphics in Enter the Matrix are no where near the potential of the Xbox and needs plenty of improvement. There are some nice touches but on an overall view, they are pretty bad. Many objects are dull and flat. I must give credit that they do provide some nice destructability and damage to objects. Although, some things that should be destructable aren't...Animations are pretty good for the most part. The worst animation has to be when you are climbing a ladder. There are also some frame rate problems every once in a while. Early on in the game I rarely noticed it, but as the game progressed I came across more stutters. I started the game as Niobe and went to Ghost afterwards and actually found Ghost to be even worse for framerate issues.

So bullet time is where the matrix is all at. In Enter the Matrix, bullet time is actually called 'Focus.' It's called that because you are focusing to manipulate the Matrix. Focus is not just an effect thrown in because the movie contains it. It is actually quite essential to your success. You must learn when to preserve your focus and when to hide behind an object and wait for your focus to refill. Going through a heavily guarded area with focus on will actually be easy but if you try it without focus, you will find difficulty. Using focus, you can do various dodges, jump farther and run across a wall. You will also see some cool combos and disarms.

Hand-to-hand combat consists of punches, kicks, throws and disarms. There are some sweet disarms as well as a nice variety of combos. If you don't want to get up close, the game contains a good amount of guns to pickup. There is an auto-target feature where you will see your gun go towards an enemy within sight. The problem is that sometimes the bullets will fire in a direction that the gun isn't pointing. So if there is a swat member on a high rise, your gun might be pointed forward while the bullets will go diagonally towards the swat member.

The game features several driving sequences to mix things up a bit. Unfortunately they are among the worst levels of the games and are not very fun. If you are playing as Niobe, you will always be the driver while Ghost will be hanging out the passenger door shooting at enemies. The worst level in the game is when you are Ghost and you rely on the AI Niobe to do the driving. The level is actually based on luck instead of how well you play. Several times the AI Niobe would slow down for no reason. It is also on a linear path so if something gets in the way, she won't try to move into one of the other many lanes available. This is simply poor design and terrible AI. Driving levels are also lacking the bullet time that we want.

One thing that was done amazingly in Enter the Matrix was the sound. The game features a strong soundtrack and sound effects. Most of the time you get the feeling of playing a movie. While in Focus and shooting, the sound of shell casings hitting the floor sounds awesome. And of course the cast was on hand to lend their voices to the cut scenes and in game play.

Another cool thing about the game is that there is filmed footage and not just cgi cutscenes. This helps the game blend in more with the movie but can also look strange when one minute they are in videogame form and the next they are flesh. This is probably a better way for people to get to know the characters that are just supporting cast in the movie as well. This is what the Wachowskis wanted to do and it got done properly.

I feel like addressing some things that people have said that aren't true. I've read in a review that when you are leaning against a wall and peak out (ala MGS and Splinter Cell) that the camera doesn't shift for you to see to the side as well. Well that is simply not true. And while we are on the topic, I didn't find the camera all that bad. I've played plenty of third person games and this is far from the worse. There are some problems but it isn't too bad.

One thing that is annoying about the game is the simpleness. For one the fights get a little repetitive. There are quite a few combos to do but it's still not too complex. There's also the fact that your health and not just your focus refills after not being hit for a certain amount of time. There's also quite a few saves points instead of allowing for you to choose when to save. Really the levels are actually large but divided into sections of saves and cut scenes.

The game is short even when you play as both characters. Shiny, though, threw in a unique hacking mode. You are given a DOS like interface to access various things like cheats and artwork or the FMVs that you have unlocked. Through this you are able to "hack" a multiplayer mode to play with a friend. The mode is really basic and I found it to be pretty boring without the Focus abilities. There is also a training mode to unlock as well. One of the more interesting abilities is being able to dowload new instructions into yourself. This is similiar to the first movie where Neo learns his Jitsu. So far there is only one thing discoved through this but I'm keeping my hopes up that there has to be more than this.


Back to Xbox Reviews Index | Post Comment


| | | |
| --- | --- | --- |
| | Comments Available for Enter The Matrix | |
| | | |
| --- | --- | --- |
| | Related Xbox 360 Cheats for Enter the Matrix | |
| | | |
| --- | --- | --- |
| | Related Xbox 360 Reviews for Enter the Matrix | |
| | | |
| --- | --- | --- |
| | Related News Articles for Enter the Matrix | |
| | | |
| --- | --- | --- |
| | Related Forum Topics for Enter the Matrix | |

| | | |
| --- | --- | --- |
| | Members Online (5) / Guests Online (820) | |


| | | |
| --- | --- | --- |
| | Xbox Download Stats | |

| | | |
| --- | --- | --- |
| | Popular Xbox Games | |
TransWorld Skateboarding
Page Views: 222110

Fulfill your dream of becoming a pro skater, by performing amazing tricks on the busy streets. Make sure to stay out of the reach of police officers and security guards as they chase you up and down d..

More Xbox Games

| | | |
| --- | --- | --- |
| | HQ Network Affiliates | |