| | | |
| --- | --- | --- |
| | Harry Potter and the Chamber of Secrets | |

Harry Potter and the Chamber of Secrets
Published by: Jeff McCloy on 2004-04-26
Page Views: 2961
Rating: 4/10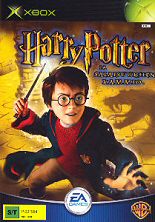 You've probably all heard the talk about games based on another licence. In short, they suck. The games based on books or movies are usually just clever marketing ploys used to make a few quick bucks with not much work put in. So, it's good when these games don't sell well and developers begin to scratch their heads wondering why.

But then comes along a big licence, a very popular movie or book that collectors will just need a game for. Unfortunately, these games turn out just as poor as their brethren, falling victim to the same marketing ploys as the other movie/book based games. When Harry Potter hit theatres in 2001, so did EA's first rendition of the Harry Potter gaming series. Unfortunately, it was, for all consoles, a pretty bad game that failed to capture the feeling of the books/movies, and also failed to capture any sort of gaming fun. EA promised to improve the second time around. But have they really?

Well, yes. That is, if you consider tweaking the graphics engine and a new story to be improvement. Okay, there are a few improvements here and there, but all in all, Harry Potter and the Chamber of Secrets manages to be as dull as it's predecessor, with repetitive, and not to mention frustrating gameplay, a horrible camera, and not too solid controls. If you're a die-hard fan of the Harry Potter series, just rent the game. If you're considering buying this game, then be warned that you (or the kids you're buying the game for) are in for one dull experience.

Harry Potter and the Chamber of Secrets strives to be a fun game, and at certain points it does seem fun. But in the end, EA seems to screw up so much stuff that Harry Potter's gaming adventure turns out boring and just not very interesting.


Back to Xbox Reviews Index | Post Comment


| | | |
| --- | --- | --- |
| | Comments Available for Harry Potter and the Chamber of Secrets | |
| | | |
| --- | --- | --- |
| | Related Xbox 360 Cheats for Harry Potter and the Chamber of Secrets | |
| | | |
| --- | --- | --- |
| | Related Xbox 360 Reviews for Harry Potter and the Chamber of Secrets | |

| | | |
| --- | --- | --- |
| | Members Online (4) / Guests Online (693) | |


| | | |
| --- | --- | --- |
| | Xbox Download Stats | |

| | | |
| --- | --- | --- |
| | Popular Xbox Games | |
Lamborghini FX
Page Views: 235694

Lamborghini FX is a fast-paced racing/arcade-style game featuring Lamborghini vehicles in races taking place in highly detailed and immersive environments. In this fast and furious driving experience,..

More Xbox Games

| | | |
| --- | --- | --- |
| | HQ Network Affiliates | |