| | | |
| --- | --- | --- |
| | Unreal: Championship | |

Unreal: Championship
Published by: TheModGod on 2004-04-26
Page Views: 3159
Rating: 8/10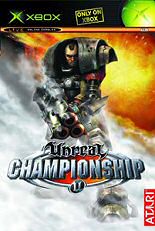 Unreal Championship is an action packed multiplayer shooter featuring high-tech weapons and a variety of alien races. The game features a single player mode where players compete against AI bots. The real action however is online. The online frag fest does not disappoint as it delivers high paced combat, futuristic weapons and very sweet graphics. On top of this the excellent map designs and variety of tournaments make for a very high replay value.

In Unreal Championship players start by selecting one of twenty plus characters who represent multiple races. The races included humans, genetically modified humans, robots and some other alien races. Each race has their own strengths and weaknesses. Some are really fast, light weight, high jumpers with the downside of not being very strong. Other races are the polar opposite, while some lie somewhere in the middle. The cover shot features a genetically altered human (a Juggernat) named Gorge, who is built like a tank with massive amounts of health and stamina. On the bad side he can barely jump up a small step, while other characters are jumping twenty to thirty feet. Players should experiment with the different races and characters to see which suits them best.

Within each race their are multiple characters who all have different default or melee weapons and a weapon specialty. Some characters can hold larger clips so they don't have to reload as often, while others have smaller clips but their accuracy is better. Still others have a high rate of fire but low accuracy. For each plus their is a corresponding minus, so players must decide which attributes are the most important.

I found the Automoton (robot) Syzygy to be one of my favorite character for playing through the single player levels. He fires a high powered rocket as his default gun. He has mid-range health points, moves fast and has great jumping ability.

There is wide selection of sci-fi weapons all of which are similar or copies of the weapons from Unreal Tournament. While some of the guns are easy to use and can do serious damage, like the Rocket Launcher and Chain gun, other guns seem too difficult or utterly useless in single player mode. The Link gun is only good in conjunction with another player who has the same gun. If a player shoots their teammate then their teammate's Link gun has deadly power. The green sludge gun, BioRifle 2.0, is also a disappointment in the frenzy of battle because it mostly works as a defensive weapon by laying puddles of sludge which act as land mines. The shield gun blocks laser fire and alternates as a hand to hand shocker. I thought this was a pretty weak weapon, but some players who enjoy close range knifing in other games may enjoy this close range weapon.

I would be remiss if I didn't mention the Translocator. The Translocator allows players to shoot a small camera pod into an area to spy on who is there. If the coast is clear players can then transport themselves to the location of the camera pod. This weapon adds lots of strategic depth for very skilled players who know the maps inside and out.


Back to Xbox Reviews Index | Post Comment


| | | |
| --- | --- | --- |
| | Comments Available for Unreal: Championship | |
| | | |
| --- | --- | --- |
| | Xbox 360 Screenshots | |
| | | |
| --- | --- | --- |
| | Related Xbox 360 Cheats for Unreal Championship | |
| | | |
| --- | --- | --- |
| | Related Xbox 360 Reviews for Unreal Championship | |
| | | |
| --- | --- | --- |
| | Related News Articles for Unreal Championship | |

| | | |
| --- | --- | --- |
| | Members Online (5) / Guests Online (1186) | |


| | | |
| --- | --- | --- |
| | Xbox Download Stats | |

| | | |
| --- | --- | --- |
| | Popular Xbox Games | |

| | | |
| --- | --- | --- |
| | HQ Network Affiliates | |