| | | |
| --- | --- | --- |
| | Brute Force | |

Brute Force
Published by: Jeff McCloy on 2004-04-25
Page Views: 4715
Rating: 6/10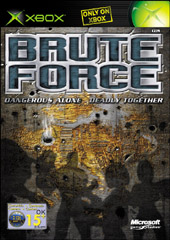 This game was said to be the next Halo. Delayed over and over again, was it worth the wait or was it just to hype us up with Microsoft pulling another one on us. Thats for you to decide but read on for details and more on Brute Force.

Brute Force is a 3rd Person Shooter, and for all of you fans of Halo out there, it is Nothing like it other than the fact that it is a sci-fi shooter. They are two very different games.

Controls can be difficult at times. After hours of gameplay I am still finding myself pushing the wrong buttons, such as useing a med kit instead of useing the characters special ability. For your first campaign mission, it is basically a tutorial for controls so you shouldn't have much of a problem unless if you jump straight into deathmatch.

Brute force lacks a large amount of multiplayer options, infact it only has three. Deathmatch, Squad Deathmatch, and Co-op. During Co-op you can have up to 4 players with you, system link compatible, and have a friend or three jump in at anytime and leave at anytime. No confusion, simple and easy, just press start. Deathmatch contains quite a few maps, but not an enourmous amount. All fairly large but I suggest playing through some campaign before going into deathmatch.

Campaign Mode/Co-op puts you, and friends if wanted, into a squad of four. you do not start out with all four characters, you will meet up with em as you play through. Each are unique in their own way...

So, while you wait for Halo 2, and if you haven't played Brute Force just yet, then maybe this will hold you off for awhile. For me, maybe I went in with too high of expectations. It just wasn't what I thought it was going to be.


Back to Xbox Reviews Index | Post Comment


| | | |
| --- | --- | --- |
| | Comments Available for Brute Force | |
| | | |
| --- | --- | --- |
| | Xbox 360 Screenshots | |
| | | |
| --- | --- | --- |
| | Related Xbox 360 Cheats for Brute Force | |
| | | |
| --- | --- | --- |
| | Related Xbox 360 Reviews for Brute Force | |
| | | |
| --- | --- | --- |
| | Related News Articles for Brute Force | |
| | | |
| --- | --- | --- |
| | Related Forum Topics for Brute Force | |

| | | |
| --- | --- | --- |
| | Members Online (4) / Guests Online (267) | |


| | | |
| --- | --- | --- |
| | Xbox Download Stats | |

| | | |
| --- | --- | --- |
| | Popular Xbox Games | |
Second Sight
Page Views: 259031

Combining an immersive thriller storyline with paranormal psychic abilities, stealthy exploration and intense shooter action "Second Sight" redefines the standards for action adventure narrative and g..

More Xbox Games

| | | |
| --- | --- | --- |
| | HQ Network Affiliates | |