Star Wars- Jedi Knight: Jedi Academy
Published by: David Meacham on 2004-03-14
Page Views: 3557
Rating: 8/10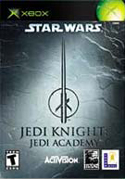 Jedi Knight: Jedi Academy is definitely a fun game. You play the role of Jade a student of the Jedi Academy. You can customize your character from their gender, the color of the hair, their species, and their clothes. While traveling to The Academy your ship crashes, this is the beginning of your many adventures. You will travel across the galaxy interacting with characters like Chewbacca and even some druids. You can even make your own light saber, from color to the handle. From the handle to the style. This game lacks the certain characteristics of an RPG game, considering you can beat it over the weekend. Never the less this game still is fun, and if your bored of offline play, why not go head on head and have a light saber dual with somebody online.


Back to Xbox Reviews Index | Post Comment