| | | |
| --- | --- | --- |
| | Display your Xbox HDD in My Network Pla | |
Display your Xbox HDD in My Network Pla
Published by

forahobby on 2006-03-09
Category: Networking | Page Views: 18,331

I wrote a tutorial ages ago explaining how you can map a network drive so that you can access your xbox directly from MY NETWORK PLACES on any WINDOWS XP/NT MACHINE but it has gone missing in some of the updates and i cant be bothered sifting through all my old backups so i thought id update you all with a new one.. lol

THIS TUTORIAL EXPECTS YOU TO HAVE ALREADY SUCCESSFULLY FTP'ED INTO YOUR XBOX.

Just before we start i would suggest if you havent ftped into to your xbox before that you do not try to setup your xbox and pc for the firt time using this method.. Try using the tutorial im linking below (read on).

For those who need to setup their PC and XBOX read below for the first time:
- Its best to read one of my other tutorials on how to setting your pc and xbox for ftp if you have never done it before.. I will link you all to this now for those who need it. Its very straight forward and im sure it will help those who need it.

How to Network (FTP) a XBOX and PC:
http://www.xbox-hq.com/html/xbox-tutorials-204.html

Anyway, lets get onto the basics:
Really all you are going to do here is add a new network drive to your My Computer..
See Image Below for a example.. For this tutorial I have added my Xbox C: Partition to my computer..

Whats required:
- A modded Xbox running a hacked dashboard installed and configured for your network.
- A PC running Windows XP/WINNT (not sure about ME/98).
- A network cable (Crossover cable is required for a direct connection from pc -->> xbox if you dont have a hub/router/switch).
- About 2 minutes of your time

How to Map A Network drive to your Xbox:
1. Navigate to your DESKTOP or your START MENU
2. Right click on MY NETWORK PLACES or MY COMPUTER. I have chosen to use the desktop and the MY NETWORK icon to map a drive.. It really doesnt matter where you choose this option from. :)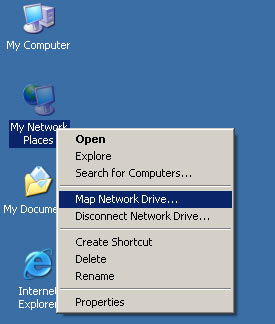 3. On the next screen you will need to choose what drive letter you want to assign your xbox partition to.. Select this at the very top from the dropdown box.. Im choosing F: drive in this tutorial as it is the next drive letter for MY COMPUTER. However, you can choose any drive letter you like.. It does NOT matter.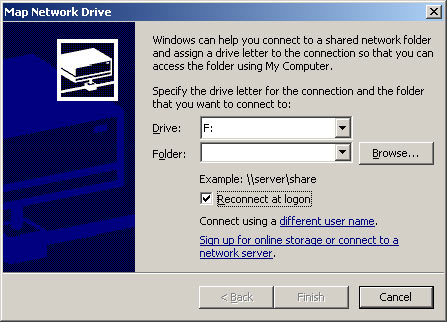 4. Once you have selected the drive letter you should tick the check box saying "Reconnect at logon".. This will make sure the xbox is connected everytime your pc is rebooted and you wont need to map a drive again.. Just remember you can always disconnect or remove this drive too at anytime.

5. Next step is have to click on the text link saying '"Sign up for online storage or connect to a network server" displayed on the very bottom of the screen.. I have attached a image identifying which one to click directly below this text.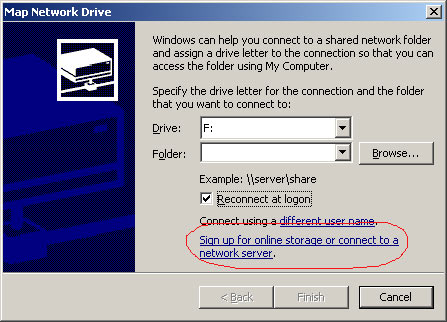 6. The next screen you see should like similar to this.. ADD NETWORK PLACE..
Just click the next button to move on.




7. Now you are at the next screen (as shown below) you just need to select "CHOOSE ANOTHER NETWORK LOCATION" and choose Next-->.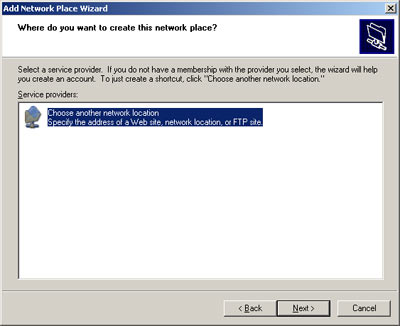 8. Now on this screen you just enter the ftp address to your xbox.. This is very simple.. But you must know what your xbox ip address is and you must also have it setup ready to go.. My xbox ip address is 192.168.0.2 running a subnet of 255.255.255.0 and a gateway of 192.168.0.1

So i entered: ftp://xbox:xbox@192.168.0.2/C/ for my C drive and clicked NEXT -->
You could add whatever drive letter you wanted on your xbox including the DVDROM drive or memory card units..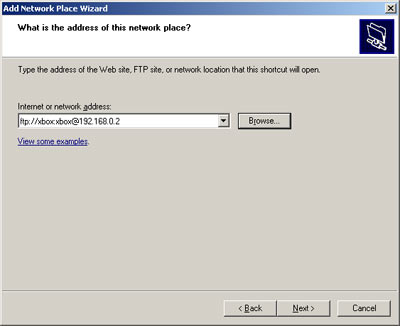 If you dont already have your xbox and pc setup on the same network please read my other ftp/networking tutorial which is recommended at the start of this tutorial..

9. The very next screen (as shown below) will let you add a custom name for your xbox. I just called mine XBOX for this tutorial.. You could call it what you like.. STORAGE etc etc.. Whatever.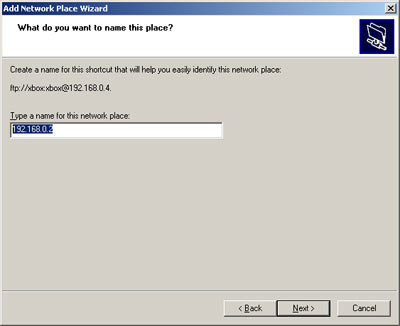 10. And now thats it your done.. You should have the final screen displayed stating that the new network drive is now available.. If not then you have some network issues.. Try my other tutorial for ftp and pc setup on a networ.

This is what you should see if you are successfull: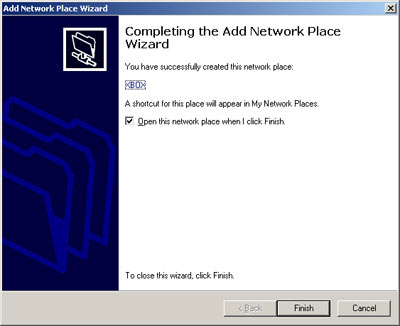 Thats it.. Now go to your my computer and see if you have a new drive letter.
Enjoy another fine tutorial from HQ.. Heres a image of what the files look like: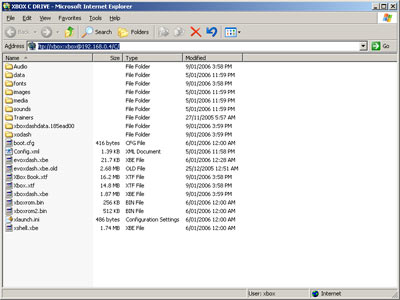 cya guys

hobbs
http://www.xbox-hq.com
http://www.360-hq.com
http://www.pc-hq.com

Related URL: How to Network (FTP) a XBOX and PC
| | | |
| --- | --- | --- |
| | Browse Tutorials | |



| | | |
| --- | --- | --- |
| | Latest News | |

| | | |
| --- | --- | --- |
| | Xbox Tutorials Database | |

| | | |
| --- | --- | --- |
| | Xbox Tutorials Database | |

| | | |
| --- | --- | --- |
| | Popular Xbox Games | |
Flatout 2
Page Views: 362,436

Featuring an enhanced version of the original's lauded physics engine and even faster-driving track designs, FlatOut 2 also boasts a plethora of improvements, enhancements, and additions to make this ..

More Xbox Games