| | | |
| --- | --- | --- |
| | Star Trek : Shattered Universe | |

Star Trek : Shattered Universe
Published by: Jeff McCloy on 2004-05-22
Page Views: 3639
Rating: 5/10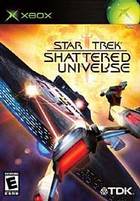 Star Trek: Shattered Universe puts you into a mirrored universe of the Star Trek universe inspired off of a classic Star Trek episode. While I'm not a big Star Trek fan, I'm sure many Trek fans will like the idea of a game based off a classic episode. It's too bad that this game leaves a lot to be desired, however. I guess Star Trek: Shattered Universe's biggest fault is the lack of depth. Lets go through the game in whole and how it performs in different areas.

Looking at the graphics of the game, you'll see that they didn't go for a realistic life-like effect but more of a clay style for the character models. In fact it reminded me of a terrible game I reviewed last year, which happened to get our worst rating, called SeaBlade. At least the cutscenes aren't like SeaBlade's where they were still frames. One thing that should at least be pointed out is that they did pay attention to some detail as far as the characters and ships are concerned.

The sound featured in Shattered Universe is give or take. The thing that I couldn't understand is why there is a type-writer sound in the game. This first shows up in the second mission where you must collect some debris and a type-writer sound comes on with text being written to say that you collected the material. It just doesn't fit in with Star Trek. It's just like someone using it on a power point just because they have it available. The best thing the game probably has going for it is that George Takei and Walter Koenig lent their voices for authenticity. They did a pretty good job but that alone can't save this game. One more thing about the sound is that the music fits in nicely and is pretty well done.

The controls aren't too complicated but can take time getting used to. This is mostly because there is no sense of speed in your ship. Also, a lack of targeting on your ship, makes anything other than phasers almost useless unless close-up on a small ship or up against a large vessel. For the most part, you're just better off sticking with your phasers for fighting.

As I already mentioned, the game is lacking depth. In this I am referring to the missions in the game. One thing that would have been cooler is if you got to control the Excelsior instead of having to protect it in your tiny ship. I mentioned earlier about the second mission having you collect debris. Well you have to find an asteroid and destroy it to collect the debris. So of course when you collect the debris, a wave of enemy fighters come after you. Destroy them, collect more debris, fight another wave of enemies. You do this several times. This reminds me more of an NES space shooter. In fact, I had more fun with an old Star Trek gameboy game. In there you got to conrol shield and re- route power from different systems, transport people and objects to and from your ship. Something like that could've spiced Shattered Universe up because as it is, the game is lacking something to keep it fresh and innovative.

Star Trek fans are sure to enjoy it for a little while but probably good enough for a rental or possibly when it lands in the bargain bin. The graphics, controls, sound effects, and missions all need work. While it isn't the worst Xbox game I've played, it's hard to warrant a purchase. The game could keep you busy for a little bit but you might find yourself bored or frustrated after a while. Those looking for a Star Trek game might want to wait longer to fullfil their wants.


Back to Xbox Reviews Index | Post Comment


| | | |
| --- | --- | --- |
| | Comments Available for Star Trek : Shattered Universe | |
| | | |
| --- | --- | --- |
| | Xbox 360 Screenshots | |
| | | |
| --- | --- | --- |
| | Related Xbox 360 Reviews for Star Trek : Shattered Universe | |


| | | |
| --- | --- | --- |
| | Xbox Download Stats | |

| | | |
| --- | --- | --- |
| | HQ Network Affiliates | |

| | | |
| --- | --- | --- |
| | Popular Xbox Games | |
Tao Feng: Fist of the Lotus
Page Views: 325836

Tao Feng: Fist of the Lotus is the perfect blend of fighting realism and stunning special effects. Tao Feng: Fist of the Lotus delivers a classic battle between good and evil as two ancient Chinese cl..

More Xbox Games