Sea of Thieves Season Three is now available on XBOX, STEAM and XBOX GAME PASS
Date: Wednesday, July 07 @ 20:27:39 UTC
Topic: Xbox One


Season Three, the latest Sea of Thieves (@SeaOfThieves) content update, is now available for free with Xbox Game Pass and across Xbox Series X|S, Xbox One, Windows 10 and Steam. Dive into five thrilling tall tales in Sea of Thieves: A Pirates Life, face oof against new enemies, earn rewards, tackle refreshed trials, deeds, and more!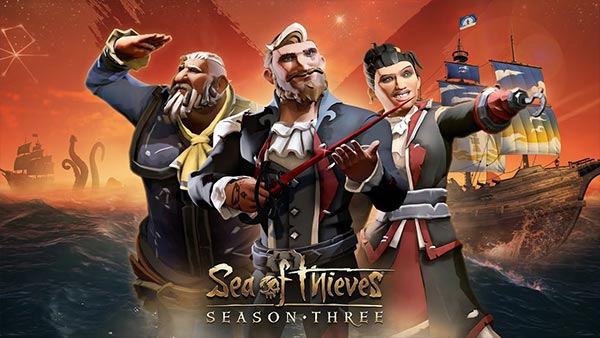 Sea of Thieves Season Three is free for all players and includes 100 levels of rewards to be earned by sailing the seas and steadily increasing your Renown. Time-limited Events can boost your Renown, as can Trials: wide-ranging sets of Deeds refreshed for Season Three as you take on incoming adversaries and Tall Tales. Season Three's Plunder Pass is available to buy separately, adding all-new premium treasures to the Seasonal reward pool!
At the heart of Season Three is Sea of Thieves: A Pirate's Life - a collection of five carefully crafted Tall Tales forming an original story where Jack Sparrow stars alongside our pirate crews. Players will journey to strange, ethereal realms and dive deep below the waves on their quest to defeat the nefarious Davy Jones, who has pursued Jack to the Sea of Thieves and threatens to destroy the pirate life unless his schemes can be stopped.
Packed with vast new locations, an assortment of dangerous new enemies, secrets to uncover and cosmetic rewards to earn, Sea of Thieves: A Pirate's Life is an exhilarating experience that we hope players will enjoy diving into alongside the legendary Captain Jack Sparrow.
Take a journey to defend your world against threats from beyond the horizon! Featuring characters and locations from Disney's Pirates of the Caribbean crossing over into the Sea of Thieves, Sea of Thieves: A Pirate's Life is available now.
The official merch store is celebrating the launch of Sea of Thieves: A Pirate's Life by offering a 15% discount on everything until 12am BST June 30th. Even things from outside the Shroud will cost less when you use code SEASON3LAUNCH at checkout!
Sea of Thieves is available for Xbox One, Xbox Series X|S, Windows 10 and Steam.

For future updates, release dates and information, check out the Xbox games database, follow @XONEHQ on Twitter, Facebook, Pinterest, Reddit, Instagram, and YouTube, and stay tuned for the latest Xbox news & rumors, and the best new upcoming Xbox Series X|S & Xbox One games, achievements, game trailers, screenshots, and more.

Official Site: https://www.seaofthieves.com/season-three
News Source: https://www.xboxone-hq.com/news.html