T-Minus 15 days and counting North America
Date: Monday, November 07 @ 16:41:11 UTC
Topic: Xbox 360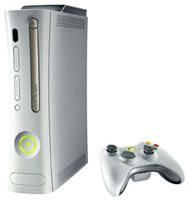 Today officially marks 15 days and counting.

The launch date as we all know for North America is November 22,2005. At midnight the "Gates" of hell shall open and the next generation of Xbox will be unleashed upon the world. Thousands will brave the cold, the dark and the other hoards to lay their hands on the newest gaming system to land on this planet.
Don't forget, in Doom 3, I found the best weapon to be the shotgun. (JUST KIDDING!!)
So kick them tires and rev those engines gentlemen (and ladies). On November 23 there will be more left out turkeys than the day after Thanksgiving.

Rumack: Mr. Striker, the customers are getting worse. You must release the 360 soon.
Ted Striker: Surely there must be something you can do.
Rumack: I'm doing everything I can... and stop calling me Shirley.
(movie-Airplane)

Shark2th.