Dark and gritty twin-stick shooter REMEDIUM is now available for Xbox Series X|S, Xbox One, PlayStation 4|5, Nintendo Switch, and PC (Steam, Epic Games Store, Windows, Mac, Linux)..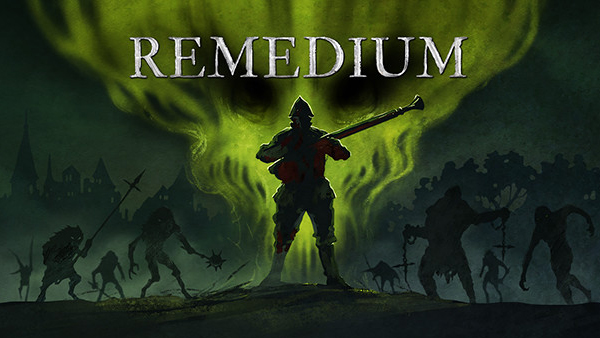 After receiving feedback from their community, REMEDIUM's developers decided to extend the playtest period significantly so more players can have the opportunity to get a sneak peak into the plague-ravaged world.
Over a hundred years have passed since the virulent Grey Plague swept the continent, leaving blighting ruin in its wake. Today, it has mutated nearly all habitants into mindless chimeras that exist only to spread infection to the few lucky survivors among the dwindling fortresses that make up the human stronghold. For one of those survivors, their luck has run out. This afflicted individual must find a cure or succumb to the virus.
Set off on a harrowing journey beyond the garrison walls to find treatment. While the infection takes a turn for the worse, turn the symptoms into strengths to gain an upper hand in combat. Slaughter hordes of chimeras, mutants, elementals, gargoyles, golems, and more using a powerful variety of muskets with alchemical upgrades and elemental ammo.
Time perfect assaults and shock enemies with lightning rounds or freeze them in their tracks with ice bullets. Collect alchemical elements and master the mysteries of medieval science and hermetics. Brew powerful injections, amalgams, and potions to take the field against maddened monsters. Last until the cure is revealed.
Experience everything the Remedium universe has to offer with REMEDIUM: Sentinels, the grim rogue-lite bullet hell set in the same world. Since launching into Early Access earlier this year, it has received weekly updates steaming from their community's great feedback.
REMEDIUM is out now on Xbox, PlayStation, Switch, and PC via Steam and Epic Game Store for Windows, MAC, and Linux
Dive into more video game news, game trailers & videos, release dates, and updates by following @XONEHQ on Twitter, YouTube, Instagram, Facebook, and Pinterest. You can also download the free Xbox app for Android or subscribe via email and RSS.
News Source:
XBOXONE-HQ.COM
"