| | | |
| --- | --- | --- |
| | Hyper Shapes releases digitally on Xbox, PlayStation, Switch & Steam | |
Hyper Shapes releases digitally on Xbox, PlayStation, Switch & Steam

BlindShot Games confirmed that minimalist boss rush experience Hyper Shapes is now available for Xbox One, Xbox Series, PlayStation 4/5, Nintendo Switch and Steam in digital format.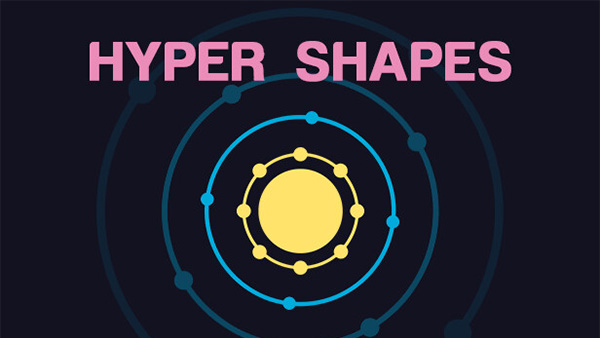 Hyper Shapes is a frenetic minimalist Boss Rush where understanding the enemies attack patterns and weaknesses is key. Immerse yourself in a unique experience with a 2D minimalistic art style. Each room is a surprise and each boss a different challenge with unique mechanics. Use your power ball to defeat them and beware of their attacks. You won''t have a break.
Hyper Shpaes features:
Frenetic gameplay.
Minimalistic art style.
A different "Boss Rush" experience.
Easy to play, Hard to master!.
Hyper Shapes is out now on Xbox, PlayStation, Switch and PC via Steam, priced at $4,99 | 4,99€.
For more Video game news, achievements, release dates and indie updates, follow @XONEHQ on Twitter, YouTube, Instagram, Facebook, and Pinterest, and download the free XBOX app for Android!
News Source:
XBOXONE-HQ.COM
"
| | | |
| --- | --- | --- |
| | Related Stories | |

| | | |
| --- | --- | --- |
| | Most Popular | |

| | | |
| --- | --- | --- |
| | Rate this Article | |
| | | |
| --- | --- | --- |
| | Associated Topics | |



| | | |
| --- | --- | --- |
| | Xbox Tutorials Database | |

| | | |
| --- | --- | --- |
| | Xbox Tutorials Database | |

| | | |
| --- | --- | --- |
| | Xbox Download Stats | |

| | | |
| --- | --- | --- |
| | Site Statistics | |

| | | |
| --- | --- | --- |
| | Site Statistics | |

HQ Online Statistics
Members: 1 | Guests: 286 | Xbox Live Tags: 4,376


Forums

Active Users: 84

News

Active Users: 46

Your Account

Active Users: 38

Home

Active Users: 33

Xbox Games

Active Users: 24

Xbox Homebrew

Active Users: 12

Xbox Tutorials

Active Users: 12

Downloads

Active Users: 11

VIP Signup

Active Users: 5

Downloads VIP

Active Users: 5

View More Detailed Statistics

| | | |
| --- | --- | --- |
| | Site Statistics | |

| | | |
| --- | --- | --- |
| | Popular Xbox Games | |
Egg Mania: Eggstreme Madness
Page Views: 296,124

Freshly hatched gamers and hardboiled puzzle fanatics alike will crack under the extreme pressure of this innovative and highly addictive arcade-style puzzler! Developed exclusively for next-generatio..

More Xbox Games

| | | |
| --- | --- | --- |
| | HQ Network Affiliates | |

| | | |
| --- | --- | --- |
| | Xbox-Hq.Com - Archived News | |

Monday, March 20
Bike Mechanic Simulator 2023 officially annou
published by: BigJ | Page Views: 7 | Comments: 0

Friday, March 17
Dead Island 2 GOES GOLD; Coming to XBOX, Play
published by: BigJ | Page Views: 22 | Comments: 0
GitHub Founder Launches Developer-Friendly Pu
published by: BigJ | Page Views: 19 | Comments: 0

Thursday, March 16
Turn-Based RPG 'Stolen Realm' Confirmed For X
published by: BigJ | Page Views: 11 | Comments: 0

Wednesday, March 15
SNK is heading to EVO Japan 2023
published by: BigJ | Page Views: 28 | Comments: 0
Souls-like action RPG 'Lies of P' lands this
published by: BigJ | Page Views: 36 | Comments: 0

Tuesday, March 14
'Maximum Football' coming to Xbox, PlayStatio
published by: BigJ | Page Views: 33 | Comments: 0

Monday, March 13
Capes announced for Xbox Series, Xbox One, PS
published by: BigJ | Page Views: 35 | Comments: 0
'Tin Hearts' is coming to Xbox, PlayStation,
published by: BigJ | Page Views: 22 | Comments: 0

Friday, March 10
Road 96: Mile 0 releases April 4 on Xbox Seri
published by: BigJ | Page Views: 57 | Comments: 0
The Crown of Wu drops March 24 on PlayStation
published by: BigJ | Page Views: 25 | Comments: 0
STEEL SEED confirmed for Xbox Series, PlaySta
published by: BigJ | Page Views: 45 | Comments: 0
Comparing the potential earnings of esports b
published by: ozzy | Page Views: 39 | Comments: 0

Thursday, March 09
DRIFTCE Revealed for Xbox and PlayStation con
published by: BigJ | Page Views: 45 | Comments: 0
GitHub co-founder Chris Wanstrath Forms New I
published by: BigJ | Page Views: 23 | Comments: 0
STARFIELD will launch exclusively for Xbox Se
published by: ozzy | Page Views: 43 | Comments: 0
Redfall launches for Xbox Series X & PC in Ma
published by: BigJ | Page Views: 28 | Comments: 0

Monday, March 06
JSAUX Announces New Dock, Skins And Wireless
published by: BigJ | Page Views: 30 | Comments: 0

Friday, March 03
WWE 2K23 releases hits Xbox, PlayStation & PC
published by: BigJ | Page Views: 27 | Comments: 0

Thursday, March 02
Hotel Renovator releases March 7 on Xbox Seri
published by: BigJ | Page Views: 40 | Comments: 0
Shadow Gambit: The Cursed Crew confirmed for
published by: BigJ | Page Views: 30 | Comments: 0

Wednesday, March 01
Honeycomb Aeronautical's Charlie Rudder Pedal
published by: BigJ | Page Views: 65 | Comments: 0

Tuesday, February 28
Curse of the Sea Rats gets an April release d
published by: BigJ | Page Views: 40 | Comments: 0

Monday, February 27
Nocturnal is heading to consoles and PC in 20
published by: BigJ | Page Views: 43 | Comments: 0

Friday, February 24
CATAN Console Edition Launches Next Week On X
published by: BigJ | Page Views: 42 | Comments: 0
Fernbus Simulator coming to Xbox Series X|S a
published by: BigJ | Page Views: 50 | Comments: 0

Thursday, February 23
SteamWorld Build Coming to Xbox, PlayStation
published by: BigJ | Page Views: 29 | Comments: 0

Wednesday, February 22
Alaskan Truck Simulator: Green Man Gaming Sig
published by: BigJ | Page Views: 35 | Comments: 0
Anno 1800 Console Edition sails onto Xbox Ser
published by: BigJ | Page Views: 30 | Comments: 0

Tuesday, February 21
Monster Energy Supercross 6 Drops A New Trail
published by: BigJ | Page Views: 30 | Comments: 0

Monday, February 20
Dead Island 2 Unveils Four Playable Character
published by: BigJ | Page Views: 37 | Comments: 0
Stellaris: First Contact Story Pack Coming So
published by: BigJ | Page Views: 80 | Comments: 0

Friday, February 17
Take part in SpecialEffect's 10th annual Game
published by: BigJ | Page Views: 36 | Comments: 0

Wednesday, February 15
The Dragoness: Command of the Flame announced
published by: BigJ | Page Views: 41 | Comments: 0

Tuesday, February 14
Clash: Artifacts of Chaos now available to pr
published by: BigJ | Page Views: 40 | Comments: 0

Monday, February 13
EA SPORTS PGA TOUR Tees Off March 24 On Xbox
published by: BigJ | Page Views: 54 | Comments: 0

Friday, February 10
Wanted: Dead Releases Comes Out Next Week; N
published by: BigJ | Page Views: 39 | Comments: 0
Microsoft Flight Simulator's New Zealand Worl
published by: BigJ | Page Views: 59 | Comments: 0

Thursday, February 09
emoji Kart Racer launches for Xbox and Ninten
published by: BigJ | Page Views: 49 | Comments: 0

Wednesday, February 08
Tales Of Symphonia Remastered Releases Next W
published by: BigJ | Page Views: 59 | Comments: 0


News Archive