| | | |
| --- | --- | --- |
| | Team17 Opens The Floodgates with release dates, reveals and more | |
Team17 Opens The Floodgates with release dates, reveals and more

Team17 (@Team17) unleashed a torrent of information for new and existing titles during its 'Team17 Presents' showreel at the 2021 Golden Joystick Awards. From action RPGs to shooters and strategy sims, indie games label has something for everyone in jam-packed Golden Joysticks showreel.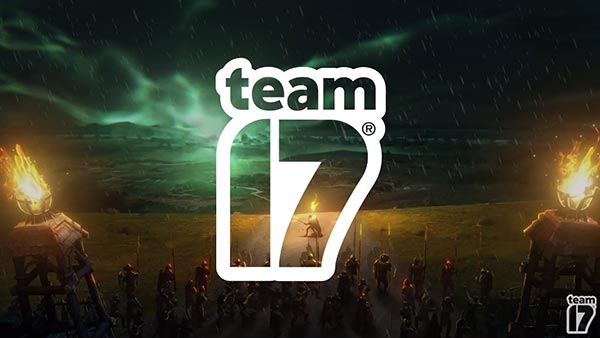 As part of the event, the indie games label announced an exciting mix of release dates, new titles, and updates, including the eagerly anticipated Blasphemous: Wounds of Eventide DLC, which arrives as a free update on 9th December; upcoming punishing action-RPG Thymesia, which received a 2022 release window across new-generation consoles and PC; as well as The Unliving and The Serpent Rogue, both of which now have free demos available to try on Steam.
The showreel also highlighted an array of recently released titles including Epic Chef; Hammerting; and Before We Leave, as well as confirming that multi-award-winning platformer Greak: Memories of Azur is coming to Xbox One and PlayStation 4 on 14th December.
Updates are also on the way for intense WWII shooter Hell Let Loose, whose Steam version receives the free 'Outflank' update on 7th December; survival-RTS Age of Darkness: Final Stand, which today receives the free 'The Queen's Fury' update; and Honey, I Joined A Cult, which unwraps a special Christmas update next month.
Team17 also hinted at another reveal in December for a new title. More information will be made by royal appointment next month.
Team17 Presents - Full List
To keep up to date with everything 
XBOX
, follow
@XONEHQ
on
Twitter
,
YouTube
,
Instagram
, and
Pinterest
, like us on
Facebook
, and download the
subscribe via email and rss
.
News Source:
here
"
| | | |
| --- | --- | --- |
| | Related Stories | |

| | | |
| --- | --- | --- |
| | Most Popular | |

| | | |
| --- | --- | --- |
| | Rate this Article | |
| | | |
| --- | --- | --- |
| | Associated Topics | |



| | | |
| --- | --- | --- |
| | Xbox Tutorials Database | |

| | | |
| --- | --- | --- |
| | Xbox Tutorials Database | |

| | | |
| --- | --- | --- |
| | Xbox Download Stats | |

| | | |
| --- | --- | --- |
| | Site Statistics | |

| | | |
| --- | --- | --- |
| | Site Statistics | |

HQ Online Statistics
Members: 4 | Guests: 251 | Xbox Live Tags: 4,379


Forums

Active Users: 73

Your Account

Active Users: 32

Home

Active Users: 28

News

Active Users: 27

Downloads

Active Users: 24

Xbox Homebrew

Active Users: 21

Xbox Games

Active Users: 17

Xbox Tutorials

Active Users: 13

Profile

Active Users: 5

Xbox Cheats

Active Users: 3

View More Detailed Statistics

| | | |
| --- | --- | --- |
| | Site Statistics | |

| | | |
| --- | --- | --- |
| | Popular Xbox Games | |
6GUN
Page Views: 402,052

6GUN is a third person, tactical-action, modern combat game. In 6GUN you are the leader of an assault team in the highly classified GUNSLINGER program operated by the Special Operations Command (SOCOM..

More Xbox Games

| | | |
| --- | --- | --- |
| | HQ Network Affiliates | |

| | | |
| --- | --- | --- |
| | Xbox-Hq.Com - Archived News | |

Thursday, May 12
Paper Cut Mansion coming to Console and PC in
published by: forahobby | Page Views: 16 | Comments: 0

Wednesday, May 11
No More Heroes 3 arrives in 2022 on Xbox Play
published by: forahobby | Page Views: 17 | Comments: 0
'Winter Ember' is out now for Xbox One and Xb
published by: forahobby | Page Views: 8 | Comments: 0

Tuesday, May 10
'Bloodhound' is heading to Xbox and PC later
published by: forahobby | Page Views: 28 | Comments: 0

Monday, May 09
Ultraviolent Cyberpunk FPS "Turbo Overkill" s
published by: forahobby | Page Views: 32 | Comments: 0

Friday, May 06
Skater XL: Tampa Pro Esports Contest to be li
published by: forahobby | Page Views: 21 | Comments: 0
SOEDESCO expands with new office in Madrid, S
published by: forahobby | Page Views: 25 | Comments: 0

Thursday, May 05
Demolish & Build 3 announced for Xbox One & X
published by: forahobby | Page Views: 24 | Comments: 0

Wednesday, May 04
Barton Lynch Pro Surfing 2022 confirmed for X
published by: forahobby | Page Views: 23 | Comments: 0
Moo Lander Releases May 27th on Xbox, PlaySta
published by: forahobby | Page Views: 30 | Comments: 0

Tuesday, May 03
Swordship Is Heading To Xbox, PlayStation, Sw
published by: forahobby | Page Views: 38 | Comments: 0
All in! Games Appoints Marcin Kawa as the New
published by: forahobby | Page Views: 29 | Comments: 0

Monday, May 02
Gigapocalypse Smashes Launches June 2nd On Co
published by: forahobby | Page Views: 30 | Comments: 0

Friday, April 29
Hello Neighbor 2 Now Available To Pre-order F
published by: forahobby | Page Views: 32 | Comments: 0

Thursday, April 28
Source of Madness drops for Xbox, PlayStation
published by: forahobby | Page Views: 31 | Comments: 0
Warhammer 40,000: Darktide launches this Sept
published by: forahobby | Page Views: 32 | Comments: 0

Wednesday, April 27
Deliver Us The Moon Coming to Next-Gen Consol
published by: forahobby | Page Views: 37 | Comments: 0

Tuesday, April 26
The Outbound Ghost coming in 2022 on Xbox, Pl
published by: forahobby | Page Views: 37 | Comments: 0
GUNDAM EVOLUTION hits Series X|S, Xbox One, P
published by: forahobby | Page Views: 35 | Comments: 0

Monday, April 25
Dungeon Defenders: Going Rogue Confirmed for
published by: forahobby | Page Views: 42 | Comments: 0

Friday, April 22
Tom Clancy's Rainbow Six: Siege 'Northern Pre
published by: forahobby | Page Views: 43 | Comments: 0
One Piece Odyssey Releases on Xbox Series X|S
published by: forahobby | Page Views: 38 | Comments: 0

Thursday, April 21
Deliver Us Mars confirmed for Xbox Series X|S
published by: forahobby | Page Views: 44 | Comments: 0
MX vs ATV Legends digital pre-order's are liv
published by: forahobby | Page Views: 47 | Comments: 0

Wednesday, April 20
New Forever Skies Gameplay Trailer
published by: forahobby | Page Views: 33 | Comments: 0
Farming Simulator 22 Antonio Carraro Pack Out
published by: forahobby | Page Views: 34 | Comments: 0

Tuesday, April 19
Fursan al-Aqsa is available now on PC via Ste
published by: forahobby | Page Views: 39 | Comments: 0
LEGO Bricktales is coming to PC and Consoles
published by: forahobby | Page Views: 62 | Comments: 0
Cursed to Golf Swings Its Way to XBOX, Ninten
published by: forahobby | Page Views: 49 | Comments: 0

Thursday, April 14
Action-RPG Souldiers hits Xbox, PlayStation,
published by: forahobby | Page Views: 51 | Comments: 0

Wednesday, April 13
'Floppy Knights' Coming to Xbox and PC Game P
published by: forahobby | Page Views: 44 | Comments: 0

Tuesday, April 12
Cursed to Golf Is Heading To Xbox, Switch & P
published by: forahobby | Page Views: 48 | Comments: 0
Slaycation Paradise coming to XBOX, PlayStati
published by: forahobby | Page Views: 52 | Comments: 0

Monday, April 11
Ghostbusters: Spirits Unleashed announced for
published by: forahobby | Page Views: 49 | Comments: 0
Godfall: Ultimate Edition now available for X
published by: forahobby | Page Views: 39 | Comments: 0

Friday, April 08
The Quarry now available for digital preorder
published by: forahobby | Page Views: 53 | Comments: 0
Flintlock: The Siege Of Dawn Coming to XB, PS
published by: forahobby | Page Views: 44 | Comments: 0

Thursday, April 07
Arcade racer Slipstream launches Today on Xbo
published by: forahobby | Page Views: 58 | Comments: 0

Wednesday, April 06
Dying Light 2 Gets New Parkour Challenges
published by: forahobby | Page Views: 45 | Comments: 0
Time on Frog Island Leaps Onto Consoles and I
published by: forahobby | Page Views: 49 | Comments: 0


News Archive