| | | |
| --- | --- | --- |
| | Path Of Giants Now Available on Xbox One, Xbox Series X|S, and PC | |
Path Of Giants Now Available on Xbox One, Xbox Series X|S, and PC

Serene puzzle game Path Of Giants from Journey Bound Games (@journey_bound) is now available for Xbox One, Xbox Series X|S, and PC. Put on your thinking cap, sit back and relax!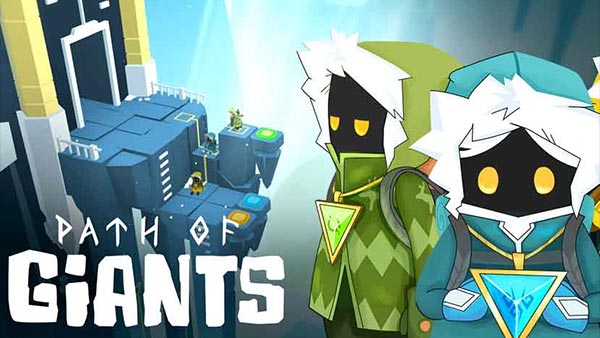 Guide three explorers; Bern, Matchi and Totch on their quest for a lost treasure through icy caverns and snow covered cliffs. Swap between the explorers as you use their teamwork to help solve the puzzles. Experience a calming atmospheric game with over 80 puzzles split into beautifully handcrafted levels. Control three adorable characters, use their teamwork, leave no one behind, and hopefully find some gold!
Path Of Giants is available on the Xbox Store today for $8.99.

To keep up with all the latest Xbox games news, release dates and updates, follow @XONEHQ on Twitter, YouTube, Instagram, Facebook, and Pinterest, download the free XBOX app for Android or subscribe via email and rss.
Xbox Store:
here
"
| | | |
| --- | --- | --- |
| | Related Stories | |

| | | |
| --- | --- | --- |
| | Most Popular | |

| | | |
| --- | --- | --- |
| | Rate this Article | |
| | | |
| --- | --- | --- |
| | Associated Topics | |



| | | |
| --- | --- | --- |
| | Xbox Tutorials Database | |

| | | |
| --- | --- | --- |
| | Xbox Tutorials Database | |

| | | |
| --- | --- | --- |
| | Xbox Download Stats | |

| | | |
| --- | --- | --- |
| | Site Statistics | |

| | | |
| --- | --- | --- |
| | Site Statistics | |

HQ Online Statistics
Members: 0 | Guests: 265 | Xbox Live Tags: 4,376


Forums

Active Users: 91

Your Account

Active Users: 35

Home

Active Users: 34

Downloads

Active Users: 22

News

Active Users: 21

Xbox Tutorials

Active Users: 21

Xbox Homebrew

Active Users: 17

Xbox Games

Active Users: 7

XBOXLive Tags

Active Users: 5

Xbox Reviews

Active Users: 3

View More Detailed Statistics

| | | |
| --- | --- | --- |
| | Site Statistics | |

| | | |
| --- | --- | --- |
| | Popular Xbox Games | |
Pitfall: The Lost Expedition
Page Views: 301,272

Assume the role of Harry, a fearless, rough-and-ready treasure seeker who battles evil using his athletic ability and a knapsack filled with adventure gear. Harry must race against a rival explorer to..

More Xbox Games

| | | |
| --- | --- | --- |
| | HQ Network Affiliates | |

| | | |
| --- | --- | --- |
| | Xbox-Hq.Com - Archived News | |

Tuesday, November 29
The Wingman XB2 Converter Coming Soon!
published by: forahobby | Page Views: 17 | Comments: 0

Monday, November 28
The Chant Is Out Now For Xbox Series X|S & PC
published by: forahobby | Page Views: 17 | Comments: 0
Makea Games raises €1.3m in pre-seed funding
published by: forahobby | Page Views: 22 | Comments: 0
Non-Xbox games that Xbox users should try
published by: forahobby | Page Views: 26 | Comments: 0

Friday, November 25
Crusader Kings III Northern Lords Expansion I
published by: forahobby | Page Views: 31 | Comments: 0
High On Life arrives December 13 on Xbox One,
published by: forahobby | Page Views: 25 | Comments: 0

Wednesday, November 23
Turbo Overkill Episode 2 Coming to Xbox, Play
published by: forahobby | Page Views: 22 | Comments: 0
Atomic Heart Releases On February 21 On Xbox,
published by: forahobby | Page Views: 20 | Comments: 0

Tuesday, November 22
New One Piece Odyssey Trailer Reveals Storyli
published by: forahobby | Page Views: 24 | Comments: 0
The top sports games on Xbox in 2022
published by: forahobby | Page Views: 33 | Comments: 0

Monday, November 21
Sci-Fi Detective Tale 'Between Horizons' Comi
published by: forahobby | Page Views: 31 | Comments: 0
Valve, Amazon & Raw Fury Join The Bilbao Inte
published by: forahobby | Page Views: 25 | Comments: 0

Friday, November 18
'Neon Blood' Releases Digitally On Consoles &
published by: forahobby | Page Views: 31 | Comments: 0

Thursday, November 17
Team17 Announces Partnership With Absolutely
published by: forahobby | Page Views: 32 | Comments: 0

Wednesday, November 16
Sci-Fi Adventure Game Somerville Is Out Now O
published by: forahobby | Page Views: 35 | Comments: 0

Tuesday, November 15
FATAL FRAME: Mask of the Lunar Eclipse lands
published by: forahobby | Page Views: 34 | Comments: 0
Apogee Announces 'Exocide' For Xbox, PlayStat
published by: forahobby | Page Views: 37 | Comments: 0

Monday, November 14
Backfirewall_ releases for Xbox One, Xbox Ser
published by: forahobby | Page Views: 38 | Comments: 0
Birmingham Cross-City add-on launches this we
published by: forahobby | Page Views: 40 | Comments: 0
Acclaimed Watch Dogs Creative Director, Jonat
published by: forahobby | Page Views: 39 | Comments: 0

Friday, November 11
'Bravery & Greed' launches November 15 on Xbo
published by: forahobby | Page Views: 40 | Comments: 0

Wednesday, November 09
REPO MAN coming to Xbox One and Xbox Series i
published by: forahobby | Page Views: 43 | Comments: 0
Ghostbusters: Spirits Unleashed Out Now on XB
published by: forahobby | Page Views: 46 | Comments: 0

Tuesday, November 08
Yakuza: Like A Dragon: Ishin remaster announc
published by: forahobby | Page Views: 46 | Comments: 0

Monday, November 07
The Rumble Fish 2 releases December 8 on all
published by: forahobby | Page Views: 32 | Comments: 0

Friday, November 04
FATAL FRAME: Mask of the Lunar Eclipse launch
published by: forahobby | Page Views: 50 | Comments: 0
Tekken 8 expected to launch on Xbox Series &
published by: forahobby | Page Views: 42 | Comments: 0

Thursday, November 03
GoldenEye 007 Remaster Is Coming Soon For Xbo
published by: forahobby | Page Views: 53 | Comments: 0

Wednesday, November 02
Vengeance Is Mine Brings Mech Combat To Xbox
published by: forahobby | Page Views: 40 | Comments: 0

Tuesday, November 01
Arcade Paradise Tops the Leaderboard as Noseb
published by: forahobby | Page Views: 45 | Comments: 0

Monday, October 31
Casino Themed Sim Management Game 'Blooming B
published by: forahobby | Page Views: 36 | Comments: 0

Friday, October 28
Trackmania drifts onto consoles and select cl
published by: forahobby | Page Views: 36 | Comments: 0

Thursday, October 27
2D adventure platformer 'Worldless' coming to
published by: forahobby | Page Views: 43 | Comments: 0

Wednesday, October 26
Ubisoft announces Assassin's Creed Mirage for
published by: forahobby | Page Views: 35 | Comments: 0
LUCID heading to Xbox X|S, XB1, PS5, PS4, SWI
published by: forahobby | Page Views: 44 | Comments: 0

Tuesday, October 25
Ghost Song Launches On Xbox One, PlayStation,
published by: forahobby | Page Views: 37 | Comments: 0
'Goblin Stone' drops in 2023 on Xbox X|S, PS5
published by: forahobby | Page Views: 40 | Comments: 0
New Flintlock: The Siege of Dawn Trailer For
published by: forahobby | Page Views: 43 | Comments: 0
DREDGE announced for Xbox, PlayStation, Switc
published by: forahobby | Page Views: 49 | Comments: 0

Monday, October 24
Swordship launches on Xbox, PlayStation, Swit
published by: forahobby | Page Views: 44 | Comments: 0


News Archive