| | | |
| --- | --- | --- |
| | Greak: Memories of Azur is available now! | |
Greak: Memories of Azur is available now!
Navegante Entertainment's debut title Greak: Memories of Azur (@PlayGreak) launches today for Xbox Series X|S, PlayStation 5, Nintendo Switch, Steam, and GOG.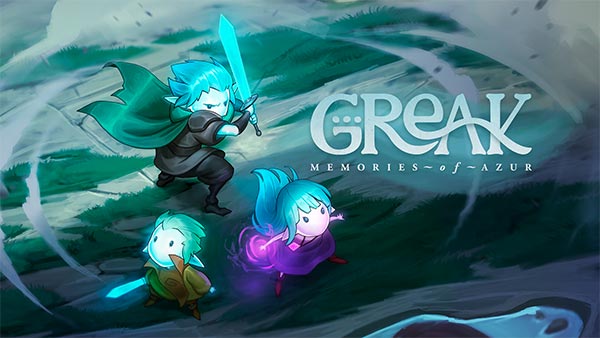 Featuring hand-drawn characters and environments, and an emotive orchestrated soundtrack, Greak: Memories of Azur sees players simultaneously alternate between Greak, Adara, and Raydel, three tenacious siblings each with the unique abilities needed to
traverse their beautiful and hostile homeland as they flee from the invasion of deadly Urlags. Players exploring Azur on PC will also benefit from ultra-wide monitor support on Steam and GOG, allowing them to enhance their experience with an increased field of view.
Greak: Memories of Azur Key Features:
Hand-Drawn Art and Animation: Enjoy a captivating narrative telling a story of family, home, and union, all brought to life with stunning hand-drawn art
Specially Crafted Puzzles: Players will solve intricate puzzles to navigate the world of Azur, using the three siblings' unique abilities to flee the threat
Unique Gameplay: Each sibling boasts their own powers and abilities, and players will alternate seamlessly between the trio to best navigate the world
Live Orchestra Soundtrack: Enjoy the expressive and atmospheric music themes specially created to enhance this unique adventure.
Let's take a look at the official Launch Trailer!
Greak: Memories of Azur is OUT NOW on Xbox Series X|S, PlayStation 5, Nintendo Switch, and Steam!

To keep up with all the latest latest Xbox games news, release dates and updates, follow @XONEHQ on Twitter, YouTube, Instagram, Facebook, and Pinterest, download the free XBOX app for Android or subscribe via email and rss.
Microsoft Store:
here
News Source:
https://www.xboxone-hq.com/news.html
"
| | | |
| --- | --- | --- |
| | Related Stories | |

| | | |
| --- | --- | --- |
| | Most Popular | |

| | | |
| --- | --- | --- |
| | Rate this Article | |
| | | |
| --- | --- | --- |
| | Associated Topics | |



| | | |
| --- | --- | --- |
| | Xbox Tutorials Database | |

| | | |
| --- | --- | --- |
| | Xbox Tutorials Database | |

| | | |
| --- | --- | --- |
| | Xbox Download Stats | |

| | | |
| --- | --- | --- |
| | Site Statistics | |

| | | |
| --- | --- | --- |
| | Site Statistics | |

HQ Online Statistics
Members: 2 | Guests: 286 | Xbox Live Tags: 4,379


Forums

Active Users: 91

Your Account

Active Users: 47

News

Active Users: 29

Home

Active Users: 21

Xbox Homebrew

Active Users: 20

Downloads

Active Users: 16

Xbox Games

Active Users: 15

Profile

Active Users: 12

Xbox Tutorials

Active Users: 6

Xbox Cheats

Active Users: 4

View More Detailed Statistics

| | | |
| --- | --- | --- |
| | Site Statistics | |

| | | |
| --- | --- | --- |
| | Popular Xbox Games | |
Mega Man Anniversary Collection
Page Views: 320,834

Mega Man Anniversary Collection is an anthology of classic Mega Man games (Mega Man 1 through Mega Man 8) from the Nintendo Entertainment System, Super Nintendo Entertainment System, PlayStation game ..

More Xbox Games

| | | |
| --- | --- | --- |
| | HQ Network Affiliates | |

| | | |
| --- | --- | --- |
| | Xbox-Hq.Com - Archived News | |

Tuesday, October 19
Omen Of Sorrow is now available on XBOX Conso
published by: forahobby | Page Views: 25 | Comments: 0

Monday, October 18
Youtubers Life 2 releases October 19 on PC an
published by: forahobby | Page Views: 33 | Comments: 0

Friday, October 15
Inked: A Tale Of Love Releases for Xbox One X
published by: forahobby | Page Views: 28 | Comments: 0

Thursday, October 14
Rainbow Six Extraction 'World trailer' shows
published by: forahobby | Page Views: 42 | Comments: 0
Nuclear Throne hits Xbox One, Xbox Series X|S
published by: forahobby | Page Views: 32 | Comments: 0
Is It Time for Platform Exclusives to End?
published by: forahobby | Page Views: 31 | Comments: 0
Tales Of Arise launches on Xbox One, Xbox Ser
published by: forahobby | Page Views: 37 | Comments: 0

Wednesday, October 13
WRC 10 is OUT NOW on Xbox, PlayStation & PC!
published by: forahobby | Page Views: 42 | Comments: 0

Tuesday, October 12
Bus Simulator 21 now available for Xbox, Play
published by: forahobby | Page Views: 31 | Comments: 0
Tormented Souls available now for Xbox Series
published by: forahobby | Page Views: 28 | Comments: 0

Monday, October 11
Life Is Strange: True Colors Is Out Now!
published by: forahobby | Page Views: 34 | Comments: 0
"Turbo Overkill" coming to Xbox, PlayStation,
published by: forahobby | Page Views: 35 | Comments: 0

Friday, October 08
Crysis Remastered Trilogy gets an October rel
published by: forahobby | Page Views: 36 | Comments: 0

Thursday, October 07
Sonic Colors: Ultimate Out Today For Xbox One
published by: forahobby | Page Views: 39 | Comments: 0
'The Last Worker' reveals world-class voice c
published by: forahobby | Page Views: 32 | Comments: 0

Wednesday, October 06
Big Rumble Boxing: Creed Champions officially
published by: forahobby | Page Views: 37 | Comments: 0
The Ultimate Horror Bundle Arrives For Xbox O
published by: forahobby | Page Views: 41 | Comments: 0

Tuesday, October 05
Endless Fables: Shadow Within Launches For Xb
published by: forahobby | Page Views: 42 | Comments: 0
Golf Club: Wasteland Out Now on Xbox, PlaySta
published by: forahobby | Page Views: 49 | Comments: 0

Monday, October 04
"Ravva And The Cyclops Curse" available now o
published by: forahobby | Page Views: 56 | Comments: 0
Cute action-adventure RPG "Kitaria Fables" La
published by: forahobby | Page Views: 37 | Comments: 0

Friday, October 01
LAKE now available for Xbox One, Series X|S &
published by: forahobby | Page Views: 49 | Comments: 0
The Ultimate Horror Bundle Hits Xbox One & Xb
published by: forahobby | Page Views: 39 | Comments: 0

Thursday, September 30
Thunderful Games acquires Spanish game develo
published by: forahobby | Page Views: 41 | Comments: 0
"Weapon Of Choice DX" OUT NOW on Xbox, PlaySt
published by: forahobby | Page Views: 41 | Comments: 0

Wednesday, September 29
Golf Club Wasteland is Out Now on Xbox, PlayS
published by: forahobby | Page Views: 40 | Comments: 0
Yuoni available now for Xbox One, Xbox Series
published by: forahobby | Page Views: 48 | Comments: 0

Tuesday, September 28
KeyWe is available today on PC & console!
published by: forahobby | Page Views: 36 | Comments: 0

Monday, September 27
Truck Driver 'Heading North' DLC and Premium
published by: forahobby | Page Views: 40 | Comments: 0
'Monster Harvest' hits Xbox One/Series X & S
published by: forahobby | Page Views: 36 | Comments: 0

Friday, September 24
"Zelda-like" XEL Announced for PC and Console
published by: forahobby | Page Views: 38 | Comments: 0
The Dark Pictures Anthology 'House Of Ashes'
published by: forahobby | Page Views: 43 | Comments: 0
Farming Simulator 22 YEAR 1 Bundle now availa
published by: forahobby | Page Views: 40 | Comments: 0
Space Station Sprint Infiltrates Xbox One And
published by: forahobby | Page Views: 39 | Comments: 0

Thursday, September 23
The Sequel to Blasphemous is coming to XBOX,
published by: forahobby | Page Views: 34 | Comments: 0
Space Station Sprint Infiltrates XBOX One And
published by: forahobby | Page Views: 40 | Comments: 0

Wednesday, September 22
Saints Row (2022) now available to pre-order
published by: forahobby | Page Views: 49 | Comments: 0
THE KING OF FIGHTERS XV launches Feb. 16, 202
published by: forahobby | Page Views: 46 | Comments: 0

Tuesday, September 21
MYST Out Now On XB1, Series X|S, Windows 10 &
published by: forahobby | Page Views: 54 | Comments: 0
Jurassic World Evolution 2 hits Xbox, PlaySta
published by: forahobby | Page Views: 43 | Comments: 0


News Archive