| | | |
| --- | --- | --- |
| | Bite The Bullet Is Now Available On Consoles And PC | |
Bite The Bullet Is Now Available On Consoles And PC

'Bite The Bullet', the world's first Run & Gun & Eat video game, is now available for Xbox One, PlayStation 4, Nintendo Switch, Microsoft Windows, Linux, and Classic Mac OS Macintosh operating systems.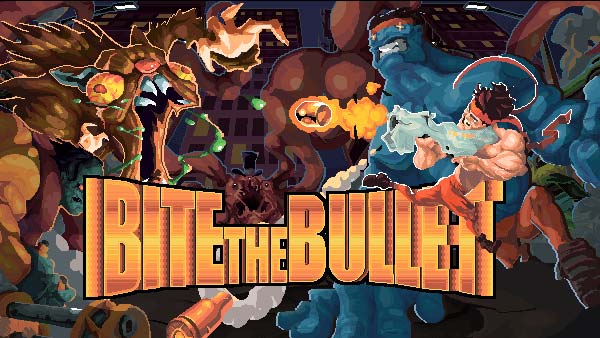 Satisfy your appetite for destruction in this roguelite RPG shooter where you must eat enemies, bullets and more to powerup your character, weapons, and abilities. Gun down adversaries with a barrage of bullets before dining on their corpses to craft new weapons, energize skills and special attacks, and transform into a powerful Zombro form to smash foes into smithereens. Explore three branching skill trees based on your diet – and remember, you are what you eat!
Developed by Mega Cat Studios and published by Graffiti Games, Bite the Bullet is available to purchase on Consoles and PC for $14.99 / € 14,99 / AU$22.45. Download the the free demo!
For more information and further updates for Bite The Bullet, browse through all of our Xbox coverage via the Xbox games list, follow us on Twitter, YouTube, Pinterest and Facebook, install the free Xbox app for android, and stay tuned!

File Size: 2.7 GB
Microsoft Store:
here
Price: $14.99 / € 14,99 / AU$22.45
News Source:
https://www.xboxone-hq.com/news.html
"
| | | |
| --- | --- | --- |
| | Related Stories | |

| | | |
| --- | --- | --- |
| | Most Popular | |

| | | |
| --- | --- | --- |
| | Rate this Article | |
| | | |
| --- | --- | --- |
| | Associated Topics | |



| | | |
| --- | --- | --- |
| | Xbox Tutorials Database | |

| | | |
| --- | --- | --- |
| | Xbox Tutorials Database | |

| | | |
| --- | --- | --- |
| | Xbox Download Stats | |

| | | |
| --- | --- | --- |
| | Site Statistics | |

| | | |
| --- | --- | --- |
| | Site Statistics | |

HQ Online Statistics
Members: 5 | Guests: 308 | Xbox Live Tags: 4,379


Forums

Active Users: 90

Your Account

Active Users: 50

Home

Active Users: 42

News

Active Users: 39

Downloads

Active Users: 24

Xbox Tutorials

Active Users: 15

Profile

Active Users: 12

Xbox Homebrew

Active Users: 12

Xbox Games

Active Users: 9


Active Users: 3

View More Detailed Statistics

| | | |
| --- | --- | --- |
| | Site Statistics | |

| | | |
| --- | --- | --- |
| | Popular Xbox Games | |
Spider-Man 2
Page Views: 355,468

In Spider-Man 2, the highly anticipated follow-up to Activision's 2002 monster hit game, Manhattan becomes a gamer's playground as you take the role of Spider-Man in a battle against the nefarious Doc..

More Xbox Games

| | | |
| --- | --- | --- |
| | HQ Network Affiliates | |

| | | |
| --- | --- | --- |
| | Xbox-Hq.Com - Archived News | |

Wednesday, October 20
THE INVINCIBLE heading to Xbox Series X, PS5,
published by: forahobby | Page Views: 18 | Comments: 0

Tuesday, October 19
Omen Of Sorrow is now available on XBOX Conso
published by: forahobby | Page Views: 25 | Comments: 0

Monday, October 18
Youtubers Life 2 releases October 19 on PC an
published by: forahobby | Page Views: 33 | Comments: 0

Friday, October 15
Inked: A Tale Of Love Releases for Xbox One X
published by: forahobby | Page Views: 29 | Comments: 0

Thursday, October 14
Rainbow Six Extraction 'World trailer' shows
published by: forahobby | Page Views: 42 | Comments: 0
Nuclear Throne hits Xbox One, Xbox Series X|S
published by: forahobby | Page Views: 32 | Comments: 0
Is It Time for Platform Exclusives to End?
published by: forahobby | Page Views: 32 | Comments: 0
Tales Of Arise launches on Xbox One, Xbox Ser
published by: forahobby | Page Views: 37 | Comments: 0

Wednesday, October 13
WRC 10 is OUT NOW on Xbox, PlayStation & PC!
published by: forahobby | Page Views: 42 | Comments: 0

Tuesday, October 12
Bus Simulator 21 now available for Xbox, Play
published by: forahobby | Page Views: 31 | Comments: 0
Tormented Souls available now for Xbox Series
published by: forahobby | Page Views: 28 | Comments: 0

Monday, October 11
Life Is Strange: True Colors Is Out Now!
published by: forahobby | Page Views: 34 | Comments: 0
"Turbo Overkill" coming to Xbox, PlayStation,
published by: forahobby | Page Views: 35 | Comments: 0

Friday, October 08
Crysis Remastered Trilogy gets an October rel
published by: forahobby | Page Views: 36 | Comments: 0

Thursday, October 07
Sonic Colors: Ultimate Out Today For Xbox One
published by: forahobby | Page Views: 40 | Comments: 0
'The Last Worker' reveals world-class voice c
published by: forahobby | Page Views: 32 | Comments: 0

Wednesday, October 06
Big Rumble Boxing: Creed Champions officially
published by: forahobby | Page Views: 37 | Comments: 0
The Ultimate Horror Bundle Arrives For Xbox O
published by: forahobby | Page Views: 41 | Comments: 0

Tuesday, October 05
Endless Fables: Shadow Within Launches For Xb
published by: forahobby | Page Views: 42 | Comments: 0
Golf Club: Wasteland Out Now on Xbox, PlaySta
published by: forahobby | Page Views: 49 | Comments: 0

Monday, October 04
"Ravva And The Cyclops Curse" available now o
published by: forahobby | Page Views: 56 | Comments: 0
Cute action-adventure RPG "Kitaria Fables" La
published by: forahobby | Page Views: 37 | Comments: 0

Friday, October 01
LAKE now available for Xbox One, Series X|S &
published by: forahobby | Page Views: 49 | Comments: 0
The Ultimate Horror Bundle Hits Xbox One & Xb
published by: forahobby | Page Views: 39 | Comments: 0

Thursday, September 30
Thunderful Games acquires Spanish game develo
published by: forahobby | Page Views: 41 | Comments: 0
"Weapon Of Choice DX" OUT NOW on Xbox, PlaySt
published by: forahobby | Page Views: 41 | Comments: 0

Wednesday, September 29
Golf Club Wasteland is Out Now on Xbox, PlayS
published by: forahobby | Page Views: 40 | Comments: 0
Yuoni available now for Xbox One, Xbox Series
published by: forahobby | Page Views: 48 | Comments: 0

Tuesday, September 28
KeyWe is available today on PC & console!
published by: forahobby | Page Views: 36 | Comments: 0

Monday, September 27
Truck Driver 'Heading North' DLC and Premium
published by: forahobby | Page Views: 40 | Comments: 0
'Monster Harvest' hits Xbox One/Series X & S
published by: forahobby | Page Views: 36 | Comments: 0

Friday, September 24
"Zelda-like" XEL Announced for PC and Console
published by: forahobby | Page Views: 38 | Comments: 0
The Dark Pictures Anthology 'House Of Ashes'
published by: forahobby | Page Views: 43 | Comments: 0
Farming Simulator 22 YEAR 1 Bundle now availa
published by: forahobby | Page Views: 40 | Comments: 0
Space Station Sprint Infiltrates Xbox One And
published by: forahobby | Page Views: 39 | Comments: 0

Thursday, September 23
The Sequel to Blasphemous is coming to XBOX,
published by: forahobby | Page Views: 34 | Comments: 0
Space Station Sprint Infiltrates XBOX One And
published by: forahobby | Page Views: 40 | Comments: 0

Wednesday, September 22
Saints Row (2022) now available to pre-order
published by: forahobby | Page Views: 49 | Comments: 0
THE KING OF FIGHTERS XV launches Feb. 16, 202
published by: forahobby | Page Views: 46 | Comments: 0

Tuesday, September 21
MYST Out Now On XB1, Series X|S, Windows 10 &
published by: forahobby | Page Views: 54 | Comments: 0


News Archive