Rockstar Games' open world driving, fighting and survival epic has consistently held its place among the very best selling games of all time. The fact that every new release has catapulted GTA to the top of the bestsellers list will come as no surprise to anyone. The incredible thing is that copies of GTA 5 are still flying off the shelves by the millions, seven years after the game was released.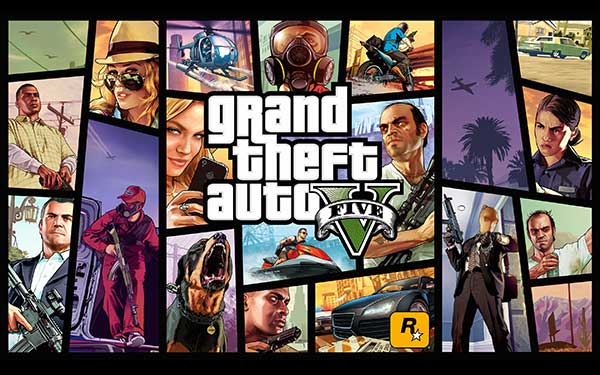 In 2019, GTA 5 sales were as strong as ever – in fact, the 20 million units sold made it one of the best years for the game so far. With a game like FIFA that has a new release every year and millions of devoted players who are ready to buy it, annual sales of around 20 million are understandable. But how does GTA 5 achieve those figures with a game that was released in 2013 on PlayStation 3 and a few months later on Xbox? Naturally, there is no single answer to that question, but we can try to pick apart the strands.
A unique experience
Let's start by being clear on one simple fact. GTA is a top-quality game that delivers a player experience like no other. The reason Rockstar don't push out a new game every 18 months is not to torture the playing community – at least not entirely. It is because of the sheer depth of work and attention to detail that goes into creating the game.
Open world games are nothing new now, but still, there is nowhere quite like San Andreas. Here you can live out your fantasies, whether that means as a hero, villain or simply a guy cruising the streets and watching the world go by.
The word "classic" is often overused. But it is as appropriate to describe GTA 5 as a classic game, as it is to describe Bleak House, Citizen Kane or Dark Side of the Moon as classic books, movies or albums. The thing about the classics is that people keep on buying them.
Regular updates
Life in the town or city where you live has not stood still since 2013. The same applies to San Andreas. The regular DLCs that are released for GTA 5 keep things fresh and add to the realism, giving the impression of a city that is constantly evolving and where today's news is tomorrow's chip paper.
A perfect example is the recent Diamond Casino and Resort update. The old derelict casino had become a feature of San Andreas, the sort of thing we might encounter in any city, surrounded by mystery and rumor. When the DLC was released last year, it was met with as much excitement as a new leisure complex might generate in the real world. It also provided a much-anticipated opportunity to gamble and test your luck on Xbox, a type of gaming that is increasingly popular in this age of online casino platforms.
Streaming success
A contributing factor towards GTA 5's continued popularity that even the developers might not have foreseen is the game's popularity with the streaming community. With the phenomenon that is GTA Online, up to 30 players can be involved in the same game. Enthusiasts have been able to watch big-name streamers like TimTheTatman and Shroud getting down and dirty with each other in the mean streets of San Andreas.
Of course, this activity takes place on Steam, but it is logical to surmise that seeing the pros in action has helped keep sales of the console version buoyant. Over the past few months, we have all learned plenty about meeting up in cyberspace. But GTA 5 online allowed that to happen in a unique way and it will certainly have sparked a renewed interest in the game itself.
Market forces
We should also keep in mind one highly pragmatic strategy that Rockstar has pursued to keep sales healthy. It's exactly the same basic approach you will see from any developer selling a game that has been around for several years – they have not been afraid to reduce the price. The $60 price tag on release raised some eyebrows back in 2014, but it did not deter fans. Since then, there have been regular price reductions, to the point where Amazon are now selling the game for just $15.
Those who are new to GTA, or who decided to stick with Liberty City will have found their resolve to resist pushed harder and harder with each price drop. Even with growing rumors that GTA 6 is mere months away, the reduced price tag means GTA 5 will continue to sell for as long as stores keep stocking it.
A gaming phenomenon
The conventional wisdom states that in the gaming sector, you have to keep evolving to remain relevant. Rockstar has found a way to achieve this with a game that is seven years old and counting. Despite the rumors of an imminent release, there is every possibility that GTA 6 might not appear for another three years. Even if that turns out to be true, Rockstar's strategy of heavily promoting at least two significant GTA 5 DLCs while keeping the price at rock bottom will guarantee continued sales.
New challenges in a familiar virtual world will also preserve the game's popularity in the streaming community and ensure that it has no opportunity to drop from the public eye. "