| | | |
| --- | --- | --- |
| | It Lurks Below now available for Xbox One and Xbox Game Pass | |
It Lurks Below now available for Xbox One and Xbox Game Pass

It Lurks Below, a retro-styled, 2D, action-oriented, survival RPG by David Brevik, is now available for Xbox One and included with Xbox Game Pass. Are you ready to find out what Lurks Below?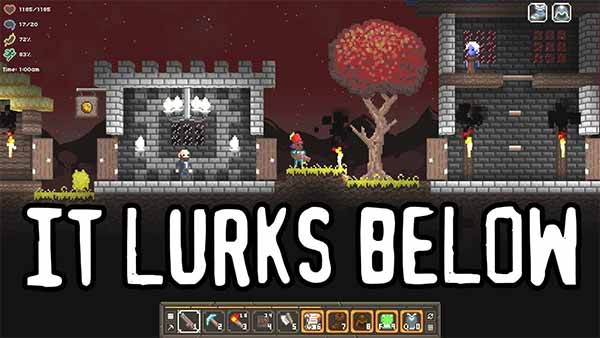 Create a custom character and choose from several different classes to delve deep into the mysteries of what evil lurks below. Dig down and explore the randomly generated levels, find random items, and combat deadly monsters to get the answers. Though this game looks similar to other games in the genre, it plays very differently. It is a true RPG, with many stats and character classes. It is very reminiscent of other games made by David Brevik such as Diablo, Diablo II, Hellgate: London and Marvel Heroes. With eight character classes to choose from, randomly generated levels, random stats on items, secret areas, bosses, a survival talent tree and three different play modes, it delivers a very different and unique gaming experience. Are you ready to find out what Lurks Below?
It Lurks Below is available on Xbox Game Pass today and can be purchased outright on Xbox One for $19.99, € 19.99, AU$29.95.
For more information on It Lurks Below, browse through our extensive coverage, follow @XONEHQ on Twitter, Google+, Facebook and YouTube, download the Xbox app for Android, and stay tuned!
Xbox Store:
here
File Size: 55.17 MB
Price: $19.99, € 19.99, AU$29.95"
| | | |
| --- | --- | --- |
| | Related Stories | |

| | | |
| --- | --- | --- |
| | Most Popular | |

| | | |
| --- | --- | --- |
| | Rate this Article | |
| | | |
| --- | --- | --- |
| | Associated Topics | |



| | | |
| --- | --- | --- |
| | Xbox Tutorials Database | |

| | | |
| --- | --- | --- |
| | Xbox Tutorials Database | |

| | | |
| --- | --- | --- |
| | Xbox Download Stats | |

| | | |
| --- | --- | --- |
| | Site Statistics | |

| | | |
| --- | --- | --- |
| | Site Statistics | |

HQ Online Statistics
Members: 0 | Guests: 259 | Xbox Live Tags: 4,384


Forums

Active Users: 77

Your Account

Active Users: 60

Home

Active Users: 36

Downloads

Active Users: 20

News

Active Users: 20

Xbox Homebrew

Active Users: 19

Xbox Tutorials

Active Users: 9

Xbox Games

Active Users: 4

Profile

Active Users: 4

Feedback

Active Users: 2

View More Detailed Statistics

| | | |
| --- | --- | --- |
| | Site Statistics | |

| | | |
| --- | --- | --- |
| | Popular Xbox Games | |
Extreme 4x4
Page Views: 303682

Are your racing games getting dusty on the shelves? Getting tired of simulators with more menus than mile per hour? If the answer is yes, then take a look at racing action at its finest in Extreme 4x4..

More Xbox Games

| | | |
| --- | --- | --- |
| | HQ Network Affiliates | |

| | | |
| --- | --- | --- |
| | Xbox-Hq.Com - Archived News | |

Wednesday, September 16
Get EA Play with Xbox Game Pass for No Additi
published by: forahobby | Page Views: 28 | Comments: 0
Prince of Persia: The Sands of Time 'Remake'
published by: forahobby | Page Views: 41 | Comments: 0
Gaming industry continues its remarkable surg
published by: forahobby | Page Views: 18 | Comments: 0

Tuesday, September 15
Tin & Kuna Rolls hits Xbox One, PS4, Nintendo
published by: forahobby | Page Views: 21 | Comments: 0
XBOX SERIES X/S: Official Release Date, Pre-o
published by: forahobby | Page Views: 31 | Comments: 0

Monday, September 14
Remastered version of 'Crysis' arrives Septem
published by: forahobby | Page Views: 10 | Comments: 0

Friday, September 11
New Streets of Rage 4 Update Available Now
published by: forahobby | Page Views: 20 | Comments: 0
Dog Duty wreaks havoc on Console and PC on Se
published by: forahobby | Page Views: 17 | Comments: 0

Thursday, September 10
DiRT 5 gets delayed until November
published by: forahobby | Page Views: 24 | Comments: 0

Wednesday, September 09
RIDE 4 races onto Xbox One, PS4 and PC via St
published by: forahobby | Page Views: 19 | Comments: 0

Tuesday, September 08
Tony Hawk's Pro Skater 1 + 2 Remaster Availab
published by: forahobby | Page Views: 19 | Comments: 0
Marvel's Avengers Is Out Now For Consoles And
published by: forahobby | Page Views: 22 | Comments: 0

Monday, September 07
NBA 2K21 Hits Xbox One, PS4, Nintendo Switch,
published by: forahobby | Page Views: 27 | Comments: 0
How Can You Get Into Professional Esports?
published by: forahobby | Page Views: 39 | Comments: 0
Tony Stewart's All-American Racing Roars Onto
published by: forahobby | Page Views: 23 | Comments: 0

Friday, September 04
Space Crew gets an October 15th launch date
published by: forahobby | Page Views: 28 | Comments: 0

Thursday, September 03
Touhou Luna Nights available today on Xbox On
published by: forahobby | Page Views: 35 | Comments: 0
Free-to-Play SPELLBREAK Out Now on Xbox One,
published by: forahobby | Page Views: 44 | Comments: 0
Blood Bowl 3 announced for Xbox Series X, PS5
published by: forahobby | Page Views: 35 | Comments: 0
Pre-order Black Ops Cold War for Xbox One & X
published by: doa666 | Page Views: 43 | Comments: 0

Wednesday, September 02
Hitman 3 Pre-Order: XBOX Next-Gen Upgrades, R
published by: doa666 | Page Views: 48 | Comments: 0
More Rumours Swirl for The Xbox Series S
published by: forahobby | Page Views: 54 | Comments: 0
Minoria Xbox One Digital Pre-order Is Availab
published by: doa666 | Page Views: 40 | Comments: 0
Project CARS 3 Out Now For Xbox One, PS4 and
published by: forahobby | Page Views: 38 | Comments: 0
Lair of the Clockwork God hits Xbox One This
published by: doa666 | Page Views: 47 | Comments: 0
The Dark Pictures Anthology: Little Hope Xbox
published by: doa666 | Page Views: 37 | Comments: 0
Spellbreak launches Tomorrow on XBOX ONE, PS4
published by: forahobby | Page Views: 34 | Comments: 0

Tuesday, September 01
Games with Gold For September 2020
published by: doa666 | Page Views: 42 | Comments: 0
Trollhunters: Defenders Of Arcadia Launches S
published by: | Page Views: 29 | Comments: 0

Monday, August 31
Survival horror-adventure 'The Coma 2: Viciou
published by: doa666 | Page Views: 29 | Comments: 0

Friday, August 28
The physical edition of "Monstrum" releases n
published by: doa666 | Page Views: 30 | Comments: 0
DRAGON BALL Z Gets A Massive New Update This
published by: doa666 | Page Views: 27 | Comments: 0
Nickelodeon Kart Racers 2 races onto Consoles
published by: forahobby | Page Views: 34 | Comments: 0

Thursday, August 27
Free Play Days: Star Wars Battlefront 2, Rain
published by: doa666 | Page Views: 43 | Comments: 0
Tennis World Tour 2 announced for Consoles an
published by: forahobby | Page Views: 28 | Comments: 0
PGA TOUR 2K21 Out Now For Xbox One, PS4, Swit
published by: forahobby | Page Views: 39 | Comments: 0
NBA 2K21 Next Gen digital pre-order and pre-d
published by: forahobby | Page Views: 36 | Comments: 0

Wednesday, August 26
Pre-order Ary And The Secret Of Seasons on Xb
published by: forahobby | Page Views: 45 | Comments: 0

Tuesday, August 25
Necromunda: Underhive Wars digital pre-order
published by: forahobby | Page Views: 46 | Comments: 0
Frst-person shooter 'Beyond Enemy Lines 2' la
published by: forahobby | Page Views: 42 | Comments: 0


News Archive