| | | |
| --- | --- | --- |
| | Red Dead Redemption 2 coming to Xbox Game Pass for Console on May 7 | |
Red Dead Redemption 2 coming to Xbox Game Pass for Console on May 7

Rockstar Games action-adventure game Red Dead Redemption 2 is coming to Xbox Game Pass (@XboxGamePass) for Console on May 7.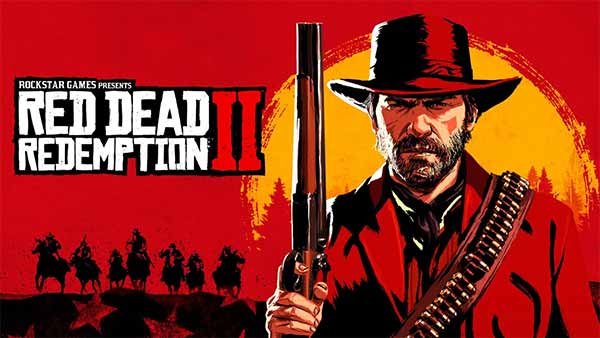 Developed by the creators of Grand Theft Auto V and Red Dead Redemption, Red Dead Redemption 2 is an epic tale of life in America's unforgiving heartland. This outlaw epic set across the vast and unforgiving American heartland is the first Rockstar game created from the ground up for the latest generation of console hardware.
America, 1899. Arthur Morgan and the Van der Linde gang are outlaws on the run. With federal agents and the best bounty hunters in the nation massing on their heels, the gang must rob, steal, and fight their way across the rugged heartland of America to survive. As deepening internal divisions threaten to tear the gang apart, Arthur must make a choice between his own ideals and loyalty to the gang who raised him.
Now featuring additional Story Mode content and a fully-featured Photo Mode, Red Dead Redemption 2 also includes free access to the shared living world of Red Dead Online, where players take on an array of roles to carve their own unique path on the frontier as they track wanted criminals as a Bounty Hunter, create a business as a Trader, unearth exotic treasures as a Collector or run an underground distillery as a Moonshiner and much more.
Red Dead Redemption 2 will be available on Xbox Game Pass for Console on May 7th.
Xbox Game Pass Ultimate includes Xbox Live Gold and over 100 high-quality games on console and PC. If you're not a Xbox Game Pass member yet, try your first three months of Xbox Game Pass for just $1.
For more
Xbox news & rumors
, follow
@XONEHQ
on
Twitter
, like us on
Facebook
, subscribe to us on
YouTube
, install the
free Xbox app for android
, and stay tuned for the
best new and upcoming Xbox games for 2020, 2021
, screenshots,
Xbox achievements
, and
Video Game Trailers
."
| | | |
| --- | --- | --- |
| | Related Stories | |

| | | |
| --- | --- | --- |
| | Most Popular | |

| | | |
| --- | --- | --- |
| | Rate this Article | |
| | | |
| --- | --- | --- |
| | Associated Topics | |



| | | |
| --- | --- | --- |
| | Xbox Tutorials Database | |

| | | |
| --- | --- | --- |
| | Xbox Tutorials Database | |

| | | |
| --- | --- | --- |
| | Xbox Download Stats | |

| | | |
| --- | --- | --- |
| | Site Statistics | |

| | | |
| --- | --- | --- |
| | Site Statistics | |

HQ Online Statistics
Members: 3 | Guests: 229 | Xbox Live Tags: 4,385


Forums

Active Users: 98

Your Account

Active Users: 30

Downloads

Active Users: 25

Xbox Homebrew

Active Users: 18

News

Active Users: 17

Xbox Tutorials

Active Users: 12

Home

Active Users: 10

Xbox Games

Active Users: 9

Profile

Active Users: 6

Downloads VIP

Active Users: 2

View More Detailed Statistics

| | | |
| --- | --- | --- |
| | Site Statistics | |

| | | |
| --- | --- | --- |
| | Popular Xbox Games | |
Star Wars: The Clone Wars
Page Views: 332132

"Begun, the Clone War has" - Jedi Master Yoda. It starts where Star Wars: Episode II Attack of the Clones ends. As Jedi Anakin Skywalker, Mace Windu or Obi-Wan Kenobi, you lead the Republic Army in th..

More Xbox Games

| | | |
| --- | --- | --- |
| | HQ Network Affiliates | |

| | | |
| --- | --- | --- |
| | Xbox-Hq.Com - Archived News | |

Wednesday, July 08
The Catch: Carp & Coarse Out Now on Xbox One,
published by: forahobby | Page Views: 15 | Comments: 0

Tuesday, July 07
BEN 10: Power Trip announced for XB1, PS4, SW
published by: forahobby | Page Views: 17 | Comments: 0

Monday, July 06
Wolfenstein: Alt History Collection Available
published by: forahobby | Page Views: 19 | Comments: 0

Friday, July 03
Party Crasher Simulator announced for XSX, PS
published by: forahobby | Page Views: 20 | Comments: 0

Thursday, July 02
WW1 FPS Tannenberg coming to XB1 and PS4 cons
published by: forahobby | Page Views: 26 | Comments: 0

Wednesday, July 01
Marvel's Avengers Confirmed for Xbox Series X
published by: forahobby | Page Views: 39 | Comments: 0
The Otterman Empire hits XBOX, PS4, SWITCH an
published by: forahobby | Page Views: 25 | Comments: 0
Sisters Royale: Five Sisters Under now digita
published by: forahobby | Page Views: 39 | Comments: 0
2020, the new era has begun for mobile games
published by: forahobby | Page Views: 60 | Comments: 0

Tuesday, June 30
Control's 'The Foundation' is available now o
published by: forahobby | Page Views: 26 | Comments: 0

Monday, June 29
New Xbox Games with Gold for July 2020 Reveal
published by: forahobby | Page Views: 49 | Comments: 0

Friday, June 26
New Games Coming to Xbox Game Pass for PC and
published by: forahobby | Page Views: 76 | Comments: 0
Assetto Corsa Competizione races onto Xbox On
published by: forahobby | Page Views: 46 | Comments: 0

Thursday, June 25
"Night Call" Out Now And Included With Xbox G
published by: forahobby | Page Views: 27 | Comments: 0

Wednesday, June 24
DiRT 5 digital pre-order's go live on Xbox On
published by: forahobby | Page Views: 39 | Comments: 0
West Of Dead: Out Now and included in Xbox Ga
published by: forahobby | Page Views: 50 | Comments: 0

Tuesday, June 23
Disintegration Launches On Xbox One, PS4 and
published by: forahobby | Page Views: 61 | Comments: 0
4 Games Bundle: Luc Bernard Collection Availa
published by: forahobby | Page Views: 70 | Comments: 0

Monday, June 22
STAR WARS: Squadrons Xbox One digital pre-ord
published by: forahobby | Page Views: 58 | Comments: 0

Friday, June 19
Windbound hits Xbox One, PS4, Switch and PC o
published by: forahobby | Page Views: 39 | Comments: 0
"Othercide" is now available for digital pre-
published by: forahobby | Page Views: 51 | Comments: 0

Thursday, June 18
Super Soccer Blast kicks off for Xbox One
published by: forahobby | Page Views: 57 | Comments: 0
"Tower Of Time" now available for digital pre
published by: forahobby | Page Views: 39 | Comments: 0

Wednesday, June 17
Hard West Ultimate Edition XBOX ONE Digital P
published by: forahobby | Page Views: 43 | Comments: 0
Glass Masquerade Double Pack: Available Now O
published by: forahobby | Page Views: 40 | Comments: 0

Tuesday, June 16
Radical Rabbit Stew out now for Xbox One, PS4
published by: forahobby | Page Views: 41 | Comments: 0
Pathfinder: Kingmaker XBOX ONE Digital Pre-or
published by: forahobby | Page Views: 33 | Comments: 0

Monday, June 15
Greymoor: The New ESO Chapter Out Now‎
published by: forahobby | Page Views: 81 | Comments: 0
Procedurally generated 2D platformer "Pity Pi
published by: forahobby | Page Views: 45 | Comments: 0

Friday, June 12
1971 Project Helios Hits XBOX One, PS4, Switc
published by: forahobby | Page Views: 39 | Comments: 0

Thursday, June 11
Charlotte Cracker Joins ONE PIECE: PIRATE WAR
published by: forahobby | Page Views: 56 | Comments: 0

Wednesday, June 10
'Beyond Blue' digital pre-order is available
published by: forahobby | Page Views: 42 | Comments: 0
WAKING Digital Pre-order And Pre-download Is
published by: forahobby | Page Views: 45 | Comments: 0

Tuesday, June 09
Remnant: From the Ashes 'Swamps of Corsus' Bu
published by: forahobby | Page Views: 60 | Comments: 0
Cuty Comedy VN "Strawberry Vinegar" Is Availa
published by: forahobby | Page Views: 47 | Comments: 0

Monday, June 08
Skelattack Is Available Now On Xbox One
published by: forahobby | Page Views: 53 | Comments: 0
'Elite Dangerous: Odyssey' expansion arrives
published by: forahobby | Page Views: 69 | Comments: 0
Best Horse Racing Games for Xbox
published by: forahobby | Page Views: 69 | Comments: 0
TRACKS 'Suburban Pack' DLC now out on Xbox On
published by: forahobby | Page Views: 59 | Comments: 0

Friday, June 05
New Super Lucky's Tale is coming to Xbox One
published by: forahobby | Page Views: 48 | Comments: 0


News Archive