| | | |
| --- | --- | --- |
| | Resident Evil 3 Demo and Resident Evil Resistance Open Beta Dates & Times | |
Resident Evil 3 Demo and Resident Evil Resistance Open Beta Dates & Times

Resident Evil fans can get an early taste of the upcoming survival horror game, Resident Evil 3, with an action-packed playable demo that will be available starting this Thursday, March 19 for PlayStation 4, Xbox One and PC players via Steam.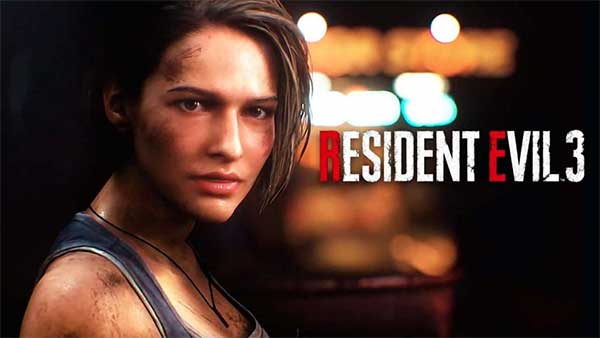 The Resident Evil 3: Raccoon City Demo lets players step into the boots of the legendary heroine Jill Valentine, as she teams up with Carlos Oliveira and the Umbrella Biohazard Countermeasure Service (U.B.C.S.) to evacuate civilians from a crumbling Raccoon City. While Jill is fighting to save innocent civilians, she must also save herself from the relentless bioweapon Nemesis, whose sole objective is her demise. The Raccoon City Demo will reveal a brand new cinematic trailer exclusive to demo participants upon completion, and will be available starting March 19 at 00:00 h ET / 04:00 h GMT / 05:00 h CET on Xbox One and 13:00 h ET / 17:00 h GMT / 18:00 h CET on PlayStation 4 and Steam.
Later this month, fans can also get a sneak peek at Resident Evil Resistance, the asymmetrical 4 vs 1 multiplayer experience that is included with Resident Evil 3. In the open beta starting March 27, players have the option to take on the role of Daniel Fabron, one of the game's four Masterminds, to run twisted experiments using various bioweapons and traps on a group of everyday civilians. In turn, players can band together as one of four of the six Survivors, each possessing a unique ability to help their team escape the experiment before time runs out. The Resident Evil Resistance open beta starts March 27 at 03:00 h ET / 07:00 h GMT / 08:00 h CET for Xbox One and PlayStation 4, and 13:00 h ET / 17:00 h GMT / 18:00 CET for Steam. The open beta will end when the game launches on April 3.
For more XBOX news, release dates and an always updated
Xbox One X enhanced 4K games
list, follow
@XONEHQ
on
Twitter
,
YouTube
, Facebook and Pinterest, download the free
XBOX app for Android
and stay tuned!
News Source:
https://www.xboxone-hq.com/news.html
"
| | | |
| --- | --- | --- |
| | Related Stories | |

| | | |
| --- | --- | --- |
| | Most Popular | |

| | | |
| --- | --- | --- |
| | Rate this Article | |
| | | |
| --- | --- | --- |
| | Associated Topics | |



| | | |
| --- | --- | --- |
| | Xbox Tutorials Database | |

| | | |
| --- | --- | --- |
| | Xbox Tutorials Database | |

| | | |
| --- | --- | --- |
| | Xbox Download Stats | |

| | | |
| --- | --- | --- |
| | Site Statistics | |

| | | |
| --- | --- | --- |
| | Site Statistics | |

HQ Online Statistics
Members: 3 | Guests: 2,519 | Xbox Live Tags: 4,376


Forums

Active Users: 1932

Downloads

Active Users: 265

News

Active Users: 90

Your Account

Active Users: 49

Home

Active Users: 46

Xbox Games

Active Users: 36


Active Users: 29

Xbox Homebrew

Active Users: 15

Profile

Active Users: 13

Xbox Tutorials

Active Users: 11

View More Detailed Statistics

| | | |
| --- | --- | --- |
| | Site Statistics | |

| | | |
| --- | --- | --- |
| | Popular Xbox Games | |
Scaler
Page Views: 301,720

Bobby "Scaler" Johnson got more than he bargained for when he stumbled upon his next door neighbor's evil plot to take over the world by stealing all the lizards and training them to become his mutant..

More Xbox Games

| | | |
| --- | --- | --- |
| | HQ Network Affiliates | |

| | | |
| --- | --- | --- |
| | Xbox-Hq.Com - Archived News | |

Thursday, November 30
Sociable Soccer 24 Unveils First Gameplay wit
published by: BigJ | Page Views: 19 | Comments: 0

Wednesday, November 29
Tokyo Indie Games Summit Returns in 2024
published by: BigJ | Page Views: 12 | Comments: 0

Tuesday, November 28
Learn How Whimsical Puzzle Game Lil' Guardsma
published by: BigJ | Page Views: 19 | Comments: 0

Monday, November 27
How the Official Soundtrack of Luna Abyss Was
published by: BigJ | Page Views: 22 | Comments: 0

Friday, November 24
Quadroids is coming soon for Xbox, PlayStatio
published by: BigJ | Page Views: 32 | Comments: 0

Thursday, November 23
Join the Rugrats in a new game coming to cons
published by: BigJ | Page Views: 29 | Comments: 0

Tuesday, November 21
INDIE Live Expo Returns December 2-3
published by: BigJ | Page Views: 25 | Comments: 0
Eiyuden Chronicle: Hundred Heroes launches on
published by: BigJ | Page Views: 32 | Comments: 0
Ikonei Island: An Earthlock Adventure Signs T
published by: BigJ | Page Views: 34 | Comments: 0

Monday, November 20
UNDEFEATED: Genesis announced for consoles an
published by: BigJ | Page Views: 49 | Comments: 0

Friday, November 17
Killing Floor 3: Get A Behind-the-Scenes Look
published by: BigJ | Page Views: 56 | Comments: 0

Thursday, November 16
New XBHD Update Enhances Brightness Capabilit
published by: ozzy | Page Views: 59 | Comments: 0
FRONT MISSION 1st Remake Limited Edition arri
published by: BigJ | Page Views: 54 | Comments: 0
SOEDESCO Welcomes Kyodai as its Latest Develo
published by: BigJ | Page Views: 51 | Comments: 0

Wednesday, November 15
Tribe: Primitive Builder confirmed for Xbox S
published by: BigJ | Page Views: 50 | Comments: 0

Tuesday, November 14
Sociable Soccer 24 is heading to Xbox Series,
published by: BigJ | Page Views: 76 | Comments: 0

Monday, November 13
SelectaPlay Announces Dark Atlas: Infernum fo
published by: BigJ | Page Views: 101 | Comments: 0

Friday, November 10
Promenade hits Xbox, PlayStation, Switch and
published by: BigJ | Page Views: 96 | Comments: 0
"Spellcaster University" Is heading to Xbox,
published by: BigJ | Page Views: 51 | Comments: 0

Thursday, November 09
"Button City Soccer Days'" drops a new consol
published by: BigJ | Page Views: 65 | Comments: 0
SOEDESCO Welcomes Kyodai as its Latest Develo
published by: BigJ | Page Views: 48 | Comments: 0

Wednesday, November 08
Barbarian Saga: The Beastmaster is coming to
published by: BigJ | Page Views: 95 | Comments: 0

Tuesday, November 07
Discover the Real Places that Inspired Tamara
published by: BigJ | Page Views: 133 | Comments: 0

Monday, November 06
Free-to-Play Shooter 'Delta Force: Hawk Ops'
published by: BigJ | Page Views: 93 | Comments: 0
Story-Driven Shooter 'Memory Lost' lands on X
published by: BigJ | Page Views: 120 | Comments: 0

Friday, November 03
JSAUX's First Accessories for ROG Ally Out No
published by: BigJ | Page Views: 133 | Comments: 0
Still Wakes the Deep splashes onto Xbox Serie
published by: BigJ | Page Views: 140 | Comments: 0

Thursday, November 02
Morkull Ragast's Rage announced for Xbox Seri
published by: BigJ | Page Views: 134 | Comments: 0

Wednesday, November 01
Retro RPG Born of Bread releases in December
published by: BigJ | Page Views: 159 | Comments: 0
Football Manager 2024 kicks off on November 6
published by: BigJ | Page Views: 173 | Comments: 0

Tuesday, October 31
Learn How the Official Soundtrack for Luna Ab
published by: BigJ | Page Views: 167 | Comments: 0
INDIE Live Expo Is Back Dec. 2-3 with Winter
published by: BigJ | Page Views: 179 | Comments: 0

Monday, October 30
"Ebenezer and The Invisible World" launches o
published by: BigJ | Page Views: 202 | Comments: 0

Thursday, October 26
'Worldless' coming to Xbox One, Xbox Series,
published by: forahobby | Page Views: 209 | Comments: 0

Wednesday, October 25
Parcel Corps confirmed for Xbox Series X|S, P
published by: forahobby | Page Views: 156 | Comments: 0

Monday, October 23
Killing Floor 3 Coming to Xbox Series, PS5, a
published by: forahobby | Page Views: 187 | Comments: 0
Killer Klowns from Outer Space: The Game Anno
published by: forahobby | Page Views: 185 | Comments: 0
Monaco Esports Signs World's Top Fortnite Duo
published by: forahobby | Page Views: 288 | Comments: 0
Outstanding Features of Online Casinos in Aus
published by: BigJ | Page Views: 193 | Comments: 0
#Little Nightmares III Returns On All Platfor
published by: forahobby | Page Views: 229 | Comments: 0


News Archive