| | | |
| --- | --- | --- |
| | Ancestors: The Humankind Odyssey XBOX Digital Pre-order And Pre-load Info | |
Ancestors: The Humankind Odyssey XBOX Digital Pre-order And Pre-load Info

Third-person survival game Ancestors: The Humankind Odyssey (@AncestorsGame) is now available for digital pre-order and pre-download On Xbox One. Get ready to embark on the incredible odyssey of human evolution and begin your journey 10 million years ago in this new adventure from the creator of Assassin's Creed.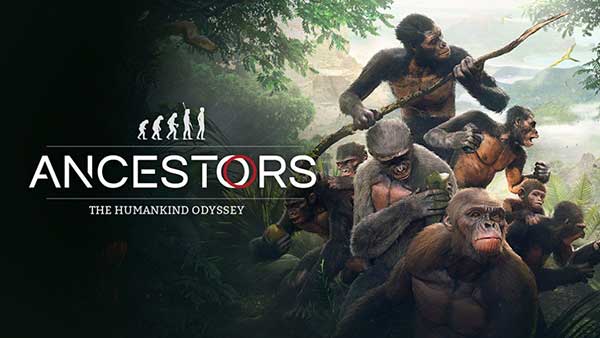 Survive your evolution in Neogene Africa starting 10 million years ago. Ancestors: The Humankind Odyssey is a third-person open world survival game where you Explore, Expand, and Evolve to advance your clan to the next generation in the exciting new adventure from the creator of Assassin's Creed. Learn about core survival skills and some of the threats along your journey from Creative Director and co-founder of Panache Digital Games, Patrice Desilets.
Embark on the most incredible odyssey known to humankind: human evolution. Spanning from 10 million to 2 million years ago, begin your journey, "Before Us," in Neogene period Africa. Explore a beautiful yet ruthless world from swinging through tree branches in the jungle to stalking prey across the golden savannah grasslands. Decide what attributes to learn and hone in order to pass down knowledge to future generations, from crafting tools to enhancing evasive tactics against predators. Just like real life, make sure to eat, drink, and sleep to stay alive and have the energy to face any danger that may come your way.
Let's take a look at the official launch trailer!
Developed by Panache Digital Games and published by Private Division, "Ancestors: The Humankind Odyssey" is available to pre-order for $39.99. The game will be available for the Xbox One on December 6, 2019.
For future Xbox news & rumors and the best new and upcoming games for XBOX, including game trailers, previews, screenshots, release dates and an always updated Xbox One X enhanced 4K games list, follow @XONEHQ on Twitter, YouTube, Facebook and Pinterest, download the free XBOX app for Android and until next time, game on!
Price: $39.99 USD
Digital Pre-order:
here
Official Site:
https://ancestorsgame.com
News Source:
https://www.xboxone-hq.com/news.html
"
| | | |
| --- | --- | --- |
| | Related Stories | |

| | | |
| --- | --- | --- |
| | Most Popular | |

| | | |
| --- | --- | --- |
| | Rate this Article | |
| | | |
| --- | --- | --- |
| | Associated Topics | |
Associated Topics





| | | |
| --- | --- | --- |
| | Xbox Tutorials Database | |

| | | |
| --- | --- | --- |
| | Xbox Tutorials Database | |

| | | |
| --- | --- | --- |
| | Xbox Download Stats | |

| | | |
| --- | --- | --- |
| | Site Statistics | |

| | | |
| --- | --- | --- |
| | Site Statistics | |

HQ Online Statistics
Members: 3 | Guests: 257 | Xbox Live Tags: 4,385


Forums

Active Users: 91

Your Account

Active Users: 54

Home

Active Users: 30

Downloads

Active Users: 20

News

Active Users: 17

Xbox Homebrew

Active Users: 13

Xbox RSS

Active Users: 6

Xbox Games

Active Users: 5

Xbox Tutorials

Active Users: 4

Downloads VIP

Active Users: 3

View More Detailed Statistics

| | | |
| --- | --- | --- |
| | Site Statistics | |

| | | |
| --- | --- | --- |
| | Popular Xbox Games | |
Milo and the Rainbow Nasties
Page Views: 252646

Take control of Milo Sable as he and his best friend Chamille (a Color-shooting Chameleon) move through this 3rd Person Action Adventure. Using the unique ability to paint characters and geometry, Mil..

More Xbox Games

| | | |
| --- | --- | --- |
| | HQ Network Affiliates | |

| | | |
| --- | --- | --- |
| | Xbox-Hq.Com - Archived News | |

Monday, June 29
New Xbox Games with Gold for July 2020 Reveal
published by: forahobby | Page Views: 32 | Comments: 0

Friday, June 26
New Games Coming to Xbox Game Pass for PC and
published by: forahobby | Page Views: 55 | Comments: 0
Assetto Corsa Competizione races onto Xbox On
published by: forahobby | Page Views: 30 | Comments: 0

Thursday, June 25
"Night Call" Out Now And Included With Xbox G
published by: forahobby | Page Views: 13 | Comments: 0

Wednesday, June 24
DiRT 5 digital pre-order's go live on Xbox On
published by: forahobby | Page Views: 27 | Comments: 0
West Of Dead: Out Now and included in Xbox Ga
published by: forahobby | Page Views: 38 | Comments: 0

Tuesday, June 23
Disintegration Launches On Xbox One, PS4 and
published by: forahobby | Page Views: 47 | Comments: 0
4 Games Bundle: Luc Bernard Collection Availa
published by: forahobby | Page Views: 54 | Comments: 0

Monday, June 22
STAR WARS: Squadrons Xbox One digital pre-ord
published by: forahobby | Page Views: 50 | Comments: 0

Friday, June 19
Windbound hits Xbox One, PS4, Switch and PC o
published by: forahobby | Page Views: 29 | Comments: 0
"Othercide" is now available for digital pre-
published by: forahobby | Page Views: 38 | Comments: 0

Thursday, June 18
Super Soccer Blast kicks off for Xbox One
published by: forahobby | Page Views: 45 | Comments: 0
"Tower Of Time" now available for digital pre
published by: forahobby | Page Views: 34 | Comments: 0

Wednesday, June 17
Hard West Ultimate Edition XBOX ONE Digital P
published by: forahobby | Page Views: 35 | Comments: 0
Glass Masquerade Double Pack: Available Now O
published by: forahobby | Page Views: 29 | Comments: 0

Tuesday, June 16
Radical Rabbit Stew out now for Xbox One, PS4
published by: forahobby | Page Views: 33 | Comments: 0
Pathfinder: Kingmaker XBOX ONE Digital Pre-or
published by: forahobby | Page Views: 28 | Comments: 0

Monday, June 15
Greymoor: The New ESO Chapter Out Now‎
published by: forahobby | Page Views: 70 | Comments: 0
Procedurally generated 2D platformer "Pity Pi
published by: forahobby | Page Views: 38 | Comments: 0

Friday, June 12
1971 Project Helios Hits XBOX One, PS4, Switc
published by: forahobby | Page Views: 29 | Comments: 0

Thursday, June 11
Charlotte Cracker Joins ONE PIECE: PIRATE WAR
published by: forahobby | Page Views: 50 | Comments: 0

Wednesday, June 10
'Beyond Blue' digital pre-order is available
published by: forahobby | Page Views: 34 | Comments: 0
WAKING Digital Pre-order And Pre-download Is
published by: forahobby | Page Views: 35 | Comments: 0

Tuesday, June 09
Remnant: From the Ashes 'Swamps of Corsus' Bu
published by: forahobby | Page Views: 53 | Comments: 0
Cuty Comedy VN "Strawberry Vinegar" Is Availa
published by: forahobby | Page Views: 37 | Comments: 0

Monday, June 08
Skelattack Is Available Now On Xbox One
published by: forahobby | Page Views: 46 | Comments: 0
'Elite Dangerous: Odyssey' expansion arrives
published by: forahobby | Page Views: 60 | Comments: 0
Best Horse Racing Games for Xbox
published by: forahobby | Page Views: 51 | Comments: 0
TRACKS 'Suburban Pack' DLC now out on Xbox On
published by: forahobby | Page Views: 51 | Comments: 0

Friday, June 05
New Super Lucky's Tale is coming to Xbox One
published by: forahobby | Page Views: 38 | Comments: 0
Realpolitiks New Power XBOX Digital Pre-order
published by: forahobby | Page Views: 38 | Comments: 0

Thursday, June 04
Borderlands Legendary Collection Now Out On X
published by: forahobby | Page Views: 42 | Comments: 0

Wednesday, June 03
Civilization VI's New Frontier Pass is Out No
published by: forahobby | Page Views: 48 | Comments: 0

Tuesday, June 02
Goosebumps Dead Of Night hits XB1, PS4, Switc
published by: forahobby | Page Views: 55 | Comments: 0

Monday, June 01
Xbox Games with Gold for June 2020 Revealed
published by: forahobby | Page Views: 82 | Comments: 0
Warface: Breakout is Out Now on XBOX, PS4, SW
published by: forahobby | Page Views: 46 | Comments: 0

Thursday, May 28
"Project Warlock" now available for digital p
published by: forahobby | Page Views: 54 | Comments: 0
Action ShARkPG "Maneater" is Out Now on Conso
published by: forahobby | Page Views: 73 | Comments: 0
Saints Row The Third Remastered Available Now
published by: forahobby | Page Views: 55 | Comments: 0

Wednesday, May 27
Minecraft Dungeons Is Now Out For Xbox One An
published by: forahobby | Page Views: 42 | Comments: 0


News Archive