| | | |
| --- | --- | --- |
| | Baldur's Gate, Planescape: Torment & Icewind Dale Are Out Now On Console | |
Baldur's Gate, Planescape: Torment & Icewind Dale Are Out Now On Console

Skybound Games and Beamdog today announced that enhanced editions of several classic Dungeons & Dragons fantasy role-playing videogames – including Baldur's Gate, the Baldur's Gate: Siege of Dragonspear expansion, Baldur's Gate II, Planescape: Torment, and Icewind Dale – are now available on modern consoles for the very first time.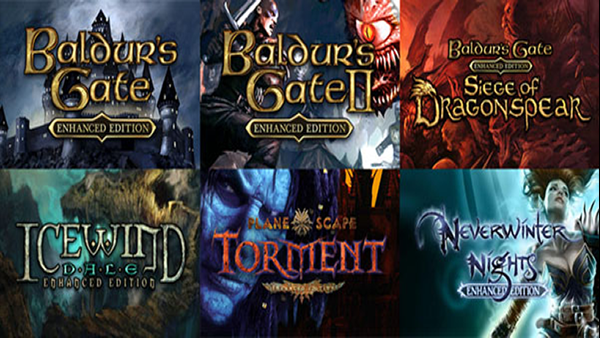 Tailored for a natural gameplay experience on consoles, these enhanced editions give longtime fans and newcomers alike the opportunity to play these critically acclaimed adventures from a golden age of RPGs in a whole new way. Beamdog has upgraded each title with support for high-resolution widescreen displays, controls optimized for console controllers, new content, new characters and classes, expanded character creation options, redesigns of the UI and UX, bug fixes, balance changes and more.
Baldur's Gate: Enhanced Edition Pack: Celebrating the series' 20th anniversary, the original Baldur's Gate: Enhanced Edition and its sequel, Baldur's Gate II: Enhanced Edition, return with all DLC and restored quest content, as well as the Baldur's Gate: Siege of Dragonspear expansion, featuring new original content developed by Beamdog to bridge the two games.
Available today globally these boxed versions can be purchased at major retailers on Xbox One, PlayStation 4 and Nintendo Switch for $49.99 each. These titles are also available for digital download on the Xbox Store, PlayStation Store, and Nintendo eShop.
Skybound Games and Beamdog will also release fellow all-time classic RPG Neverwinter Nights: Enhanced Edition on consoles on December 3, 2019. Neverwinter Nights: Enhanced Edition is available to pre-order now.
For further news and updates on all three games, please browse through all of our Xbox coverage including the best new and upcoming games,
Xbox One X 4K HDR games
, game trailers, release dates,
Xbox achievements
, and more.
News Source:
https://www.xboxone-hq.com/news.html
"
| | | |
| --- | --- | --- |
| | Related Stories | |

| | | |
| --- | --- | --- |
| | Most Popular | |

| | | |
| --- | --- | --- |
| | Rate this Article | |
| | | |
| --- | --- | --- |
| | Associated Topics | |



| | | |
| --- | --- | --- |
| | Xbox Tutorials Database | |

| | | |
| --- | --- | --- |
| | Xbox Tutorials Database | |

| | | |
| --- | --- | --- |
| | Xbox Download Stats | |

| | | |
| --- | --- | --- |
| | Site Statistics | |

| | | |
| --- | --- | --- |
| | Site Statistics | |

HQ Online Statistics
Members: 3 | Guests: 212 | Xbox Live Tags: 4,384


Forums

Active Users: 72

Your Account

Active Users: 44

News

Active Users: 28

Home

Active Users: 20

Downloads

Active Users: 16

Xbox Tutorials

Active Users: 13

Xbox Games

Active Users: 9

Xbox Homebrew

Active Users: 6

Xbox Cheats

Active Users: 1

Xbox Reviews

Active Users: 1

View More Detailed Statistics

| | | |
| --- | --- | --- |
| | Site Statistics | |

| | | |
| --- | --- | --- |
| | Popular Xbox Games | |
Worms 3D: Special Edition
Page Views: 274601

Worms 3D expands upon the successful history of the turn-based action strategy franchise, featuring a bizarre and outlandish array of explosive weaponry and laugh-out-loud instances that will forever ..

More Xbox Games

| | | |
| --- | --- | --- |
| | HQ Network Affiliates | |

| | | |
| --- | --- | --- |
| | Xbox-Hq.Com - Archived News | |

Tuesday, September 22
Crysis Remastered Out Now for Xbox One, PS4 a
published by: forahobby | Page Views: 15 | Comments: 0

Monday, September 21
Xbox Series X/S Preorders Start Tomorrow (Sep
published by: forahobby | Page Views: 59 | Comments: 0

Friday, September 18
Dog Duty hits Xbox One, PS4, Switch and Steam
published by: forahobby | Page Views: 35 | Comments: 0
WARSAW is now available for digital pre-order
published by: forahobby | Page Views: 23 | Comments: 0
eFootball PES 2021 Season Update Out Now!
published by: forahobby | Page Views: 16 | Comments: 0
Immortals Fenyx Rising Launches December 3 on
published by: forahobby | Page Views: 28 | Comments: 0

Thursday, September 17
Control Ultimate Edition Available Now For XB
published by: forahobby | Page Views: 18 | Comments: 0
WARSAW Now Available For Digital Pre-order on
published by: forahobby | Page Views: 45 | Comments: 0
New Technology Driving the Gaming Industry
published by: forahobby | Page Views: 38 | Comments: 0

Wednesday, September 16
Get EA Play with Xbox Game Pass for No Additi
published by: forahobby | Page Views: 43 | Comments: 0
Prince of Persia: The Sands of Time 'Remake'
published by: forahobby | Page Views: 47 | Comments: 0
Gaming industry continues its remarkable surg
published by: forahobby | Page Views: 26 | Comments: 0

Tuesday, September 15
Tin & Kuna Rolls hits Xbox One, PS4, Nintendo
published by: forahobby | Page Views: 27 | Comments: 0
XBOX SERIES X/S: Official Release Date, Pre-o
published by: forahobby | Page Views: 49 | Comments: 0

Monday, September 14
Remastered version of 'Crysis' arrives Septem
published by: forahobby | Page Views: 19 | Comments: 0

Friday, September 11
New Streets of Rage 4 Update Available Now
published by: forahobby | Page Views: 27 | Comments: 0
Dog Duty wreaks havoc on Console and PC on Se
published by: forahobby | Page Views: 22 | Comments: 0

Thursday, September 10
DiRT 5 gets delayed until November
published by: forahobby | Page Views: 25 | Comments: 0

Wednesday, September 09
RIDE 4 races onto Xbox One, PS4 and PC via St
published by: forahobby | Page Views: 24 | Comments: 0

Tuesday, September 08
Tony Hawk's Pro Skater 1 + 2 Remaster Availab
published by: forahobby | Page Views: 21 | Comments: 0
Marvel's Avengers Is Out Now For Consoles And
published by: forahobby | Page Views: 25 | Comments: 0

Monday, September 07
NBA 2K21 Hits Xbox One, PS4, Nintendo Switch,
published by: forahobby | Page Views: 43 | Comments: 0
How Can You Get Into Professional Esports?
published by: forahobby | Page Views: 40 | Comments: 0
Tony Stewart's All-American Racing Roars Onto
published by: forahobby | Page Views: 25 | Comments: 0

Friday, September 04
Space Crew gets an October 15th launch date
published by: forahobby | Page Views: 29 | Comments: 0

Thursday, September 03
Touhou Luna Nights available today on Xbox On
published by: forahobby | Page Views: 36 | Comments: 0
Free-to-Play SPELLBREAK Out Now on Xbox One,
published by: forahobby | Page Views: 45 | Comments: 0
Blood Bowl 3 announced for Xbox Series X, PS5
published by: forahobby | Page Views: 36 | Comments: 0
Pre-order Black Ops Cold War for Xbox One & X
published by: doa666 | Page Views: 43 | Comments: 0

Wednesday, September 02
Hitman 3 Pre-Order: XBOX Next-Gen Upgrades, R
published by: doa666 | Page Views: 49 | Comments: 0
More Rumours Swirl for The Xbox Series S
published by: forahobby | Page Views: 57 | Comments: 0
Minoria Xbox One Digital Pre-order Is Availab
published by: doa666 | Page Views: 40 | Comments: 0
Project CARS 3 Out Now For Xbox One, PS4 and
published by: forahobby | Page Views: 38 | Comments: 0
Lair of the Clockwork God hits Xbox One This
published by: doa666 | Page Views: 53 | Comments: 0
The Dark Pictures Anthology: Little Hope Xbox
published by: doa666 | Page Views: 37 | Comments: 0
Spellbreak launches Tomorrow on XBOX ONE, PS4
published by: forahobby | Page Views: 35 | Comments: 0

Tuesday, September 01
Games with Gold For September 2020
published by: doa666 | Page Views: 42 | Comments: 0
Trollhunters: Defenders Of Arcadia Launches S
published by: | Page Views: 29 | Comments: 0

Monday, August 31
Survival horror-adventure 'The Coma 2: Viciou
published by: doa666 | Page Views: 29 | Comments: 0

Friday, August 28
The physical edition of "Monstrum" releases n
published by: doa666 | Page Views: 30 | Comments: 0


News Archive