The latest in a long list of free updates for GTA Online is the Diamond Casino & Resort. Finally giving players a multiplayer taste of all the glitz and glamour of the real thing, this is yet another content expansion to the already enormous GTA Online experience. Available over Xbox One, PS4, and PC, as we covered at https://www.xboxone-hq.com, this latest expansion promises something different.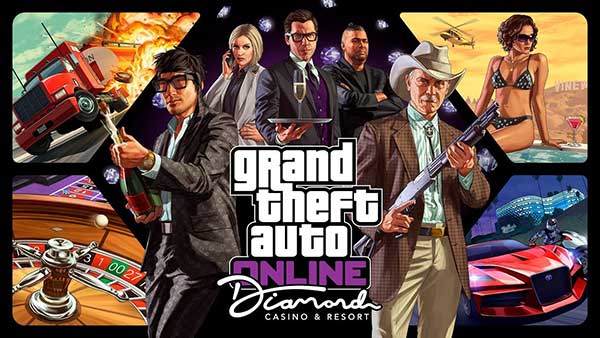 So, what exactly does this patch bring to the table, and how does it compare to some of the game's other significant expansions?
Diamond Casino & Resort
Located just west of the Vinewood Racetrack, this is a location many online players would have visited before. In our case, it was rolling down a hill in a packed VIP car, a situation to which we feel many readers could relate. Gaining access to this casino requires a $500 membership fee, which is a pittance compared to many of the game's other purchase options.
Once within the casino, players have access to a range of games, including roulette, blackjack, three card poker, slot machines, and horse race betting. It might be a bit biased of us to say, but this was the biggest part of what we wanted from the update right here.
We've always wanted online casino games like those available from https://www.ninjacasino.com/ playable from within GTA, and this update finally makes it a reality. Sure, it might not have the level of choice of hundreds of varieties of slots like a modern online casino, or the opportunity for real cash wins, but it's still a great way to hang out with friends and chill.
As with other big updates, the GTA 5 Diamond Casino & Resort expansion comes with a range of dedicated co-op only missions. Completing these missions ranks up the player's membership level. These go from Standard to Silver, Gold, Platinum, and Diamond.
The other big addition here comes from the player housing front, where users get access to three different levels of new homes. The starting Crash Pad comes in at $1.5 million, the mid-range option, the Party Penthouse, costs $3.77 million, and the fully upgraded High Roller suite will set players back just over $6.5 million.


These aren't cheap, but then players of GTA Online will, at this point, probably have seen that coming.
The Best of the Rest
If you're new to the GTA Online scene or own the base game but are yet to test the waters, it should be noted that the online game has grown massively over the initial launch.
Starting from 2013, these free online updates have added a huge amount of content, from customization options to vehicles, weapons, and missions. Here are our picks for the best of what Rockstar has introduced so far. For an entire list, head over to dedicated GTA website, https://www.gtaboom.com/.
2013
The biggest of the first year of updates was probably the Content Creator Update. This added the ability for players to make their own missions which, while not used by the majority of players, allowed the creation of some especially fantastic missions by a talented few creators.
2014
2014 brought with it a range of updates to customization with the I'm Not A Hipster, Business, and Independence Day patches. This year also saw the introduction of the flight school online, which helped give a rapid boost to the player's flight skill.
2015
This was probably the most significant year for GTA Online updates.
The new free-mode events are randomly spawned competitions which can be freely participated in by all players on a server.
The Executive update added the VIP and bodyguard system, which allow players to create free-roam teams for various special missions. This update also saw the inclusion of the extremely expensive yachts, a purchase which
many of us regret to this day.
Most pronounced of 2015 was the long-awaited addition of Heists. As detailed at the
official website, https://www.rockstargames.com, this colossal update brought with it complicated multi-tier co-op missions, with varied objectives and enormous payoffs. These required a heavy time and financial investment, but are still the standout in online missions when it comes to quality.
2016
The best addition to 2016, in our opinion, was the creation of the Stunt Race Creator. This allows races which make no logical sense but are huge fun. This is carnage given form, especially with full teams, and we love it.
2017
2017 saw the addition of a new heist and the Gunrunning DLC. This came with multiple missions and access to a new range of weapons and weaponized vehicles. In our opinion, the flying shooting motorcycles can add some issues with the constant threat of hackers, but the overall expansion has been one of the better ones.
2018
Updates started to slow in 2018, but we still saw the inclusion of new modes including Arena War, the SuperSport racing series, and the After Hours club. The club has been an especially great way to earn passive income, which is something GTA Online had, until that point, been sorely lacking.
What's Next?
It's hard to say what the future will bring for GTA Online. So far we have no official mention of the next main entry in the GTA series, which is unusual. Every console generation since the fifth saw a dedicated console GTA release, except for GTA5, which was an upgraded port of the original Xbox 360 and PS3 game. We even still have our original Xbox 360 announcement still available at http://www.360-hq.com/.
Whatever the case, we would expect more updates of
GTA Online
to come. After all,
GTA 5
has been the most profitable piece of media in history for a while now, so we wouldn't anticipate Rockstar giving up on this particular horse."