Research/analyst firm Understanding & Solutions has issued a report today saying that Paramount's switch to go exclusive HD DVD has failed to turn the market in favor of that format and that Blu-ray continues to dominate the market with stronger studio support and sales volumes.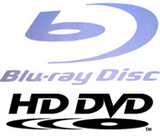 If they can't get it done with the cheapest players and three of the biggest movies of the year in "Transformers" and "Shrek the Third" from Paramount/DreamWorks and "Bourne Ultimatum from Universal," it's hard to see how them improving their chances.
I wonder how Microsoft/Toshiba are feeling about that $150 million investment, especially since Toshiba's earnings have taken such a hit.
Here is the U&S report in full:
The fast-approaching holiday season is a key milestone in the success of High Definition disc formats in the USA, according to a timely market report by Understanding & Solutions.
Performance of both Blu-ray and HD DVD during this second holiday season is crucial in establishing the new generation of optical discs, and may bring the market a step closer to resolving the war between the competing formats.
"Blu-ray and HD DVD player prices have been falling since the summer, culminating in Toshiba's loss leading sub-$100 HD DVD player, available in the USA last month for a limited time," says Jeremy Wills, Consultant at Understanding & Solutions. "Price reductions in the USA have continued into December, with Blu-ray players dropping below $300 for the first time, and HD DVD players below $200."
Understanding & Solutions' Senior Technology Consultant, Bill Foster adds, "Drive, chipset and other system components are now benefiting from economies of scale. In early 2008 we're going to see the Bill of Materials for a basic High Definition player, in either format, weighing in at less than $150, and that's going to impact the high street very soon, providing the consumer with a choice of low price players that allow CE companies a margin for profit."
In Western Europe by the end of 2008, Understanding & Solutions predicts average player prices (as opposed to entry level model pricing), for HD DVD and Blu-ray of $275 and $475 respectively, with the yet-to-be-launched European 80GB PS3 retailing at just over $500.
Furthermore, by 2011, if both formats still remain, HD DVD and Blu-ray players will both retail at below $100.
"Crucially," says Wills, "Blu-ray benefits from stronger Hollywood Studio support and represents a greater proportion of High Definition disc production volumes and disc sales. To date, Paramount's move to sole support of HD DVD has failed to turn the market, despite the HD DVD exclusivity of key titles 'Transformers' and 'Shrek the Third'. Notably, Blu-ray still represented over 70% of High Definition video sales in the USA during the week 'Transformers' was released on HD DVD.
"As demand grows and manufacturing volumes build, we're going to see the costs of releasing on two different formats really start to bite. There may be surprises just around the corner, and we could see a lot more format clarity in 2008."
Despite all this action in the disc market, consumer confusion still persists. The importance of providing a coherent message through strong retailer support is essential, as many buyers still don't know what additional inputs are required in order to view High Definition content on a High Definition TV. That said, consumer interest in displays continues unabated. By the end of this year, 34% of US homes will own a Hi Def display, rising to 90% by 2011. In Europe, uptake is slower, with 20% ownership by the end of this year, rising to 66% by 2011.
Broadcasters continue to play their part in driving demand, with almost 100 HD channels now available in the US. However, European operators in countries like France and the UK are still playing catch up, hampered by the fact that there is not enough HD content for original programming 24 hours a day.
News-Source
:
hollywoodinhidef.com