The NPD Group reports that the US videogame industry was up 52 percent in November to $2.63 billion; Call of Duty 4 (360), Super Mario Galaxy lead with million-plus sales.
Year-to-date industry sales were up 50 percent $13.12 billion overall.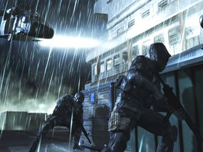 "If the year had ended on December 1st, 2007 would be up 5 percent versus last year. With the biggest month of the year yet to go, total industry sales are on track to achieve between $18 billion and $19 billion in the US," said NPD analyst Anita Frazier in a statement.
Nintendo again led the hardware race, with the DS selling 1.53 million units during the month and the Wii with 981,000. Xbox 360 sold 770,000 units, while PS3 sold 466,000.
The PS2 outsold its younger, more powerful sibling, selling 496,000 units. PSP had strong sales, moving 567,000.
Last month was the Wii's best month yet, surpassing last December by 60 percent, with sales only limited by supply constraints from high demand.
NPD analyst Anita Frazier said that the Xbox 360 and DS both had their second-best sales months, after December 2006.
She added, "The combination of the price cut and seasonal lift gave the PS3 the biggest October to November sales increase of any hardware platform."
Overall, videogame hardware was up 41 percent compared to last November, generating $1.1 billion in sales.
Software was was up 62 percent to $1.3 billion, with sales led by the Xbox 360 version of Call of Duty 4, which sold 1.57 million units. On a per-platform basis, Super Mario Galaxy was the only other million-seller during the month, selling 1.12 million. In a separate statement, Microsoft said that Xbox 360 software generated $367 million compared to $203 for Wii and PS3 at $129 million. Xbox 360's software attach rate was 6.9, according to the platform holder.
The rest of the list is below, courtesy of NPD Group:
360 Call of Duty 4: Modern Warfare, Activision—1.57 million*
Wii Super Mario Galaxy, Nintendo—1.12 million
360 Assassin's Creed, Ubisoft—980,000*
PS2 Guitar Hero III, Activision—967,000*
Wii Play w/ Remote, Nintendo—564,000
360 Mass Effect, Microsoft—473,000*
PS3 Call of Duty 4 Modern Warfare, Activision—444,000
Wii Guitar Hero III: Legends of Rock, Activision—426,000
360 Halo 3, Microsoft—387,000*
PS3 Assassin's Creed—377,000*
(*Incl. CE or LTD ed.; bundles and non-bundles)
"Assassin's Creed has earned a spot in the history books as the best-selling new IP at launch, besting the previous record held by Gears of War," Frazier said.
Across all platforms, Guitar Hero III sold 1.9 million units. "On a year-to-date basis the title has sold 3.3 million units in the U.S., and Guitar Hero II is right behind it at 3.1 million units," she added.
"Rock Band sold 382,000 units across the 360 and PS3 platforms. While some may view this as disappointing, keep in mind that initial shipments were limited, and this is the kind of title that can easily build momentum in December and beyond as word of mouth spreads."
Accessory sales were $243 million for the month, a 52 percent year-on-year increase. Frazier said, "Life-to-date sales of [Xbox 360's HD-DVD add-on] are 269K units in the U.S., representing a 3.4 percent attach rate to the 360 install base."
Four out of five of the best selling accessories were Wii controllers. The Wii Zapper sold 232,000 units, and the second-best-selling accessory for November was the PS3 wireless controller, selling 282,000.
News-Source
:
Next-Gen