Tournament.com co-founder Marcus Pearcey has told Next-Gen that the competitive gaming site has been "postponed" but not officially shut down. He admitted to misjudging the market but hopes to revive the service as soon as possible.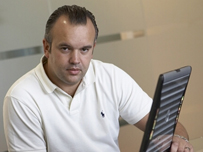 'The Tournament.com servers are temporarily offline', reads the homepage of competitive gaming website Tournamnet.com. Having spoken to co-founder Marcus Pearcey Wednesday, Next-Gen can reveal that those running the privately funded venture are currently in discussions to revive the online service, albeit in an adapted format.
"Tournament.com has not officially shut down but it has been postponed. We're looking at our options and once we've made a decision we can tell the player base what we're doing."
The site, which launched in May following 18 months of development, secured the exclusive rights to host competitive matches using Valve's Counter-Strike: Source and Half-Life 2, and aimed to get gamers playing "for relatively small amounts of money on a regular basis, win some, lose some and have fun doing so," says Pearcey.
During Tournament.com's beta phase Pearcey told Next-Gen that he believed there were a number of factors that suggested the business would be a success, from the proliferation of high-speed broadband connections to an increased focus on multiplayer gaming, although he acknowledged that predictions of success were effectively based on a hunch as there wasn't really a case study or any hard data to back them up.
Six months later, Pearcey says that a costly infrastructure which drained resources, coupled with players' resistance to deposit their own funds once they had used up free credits, has ultimately led the company to rethink its business model.
"Our aim was always to create a first class infrastructure so that players could play games at a fast pace without issues such as bandwidth problems. If you could take away the infrastructure costs that made that possible then the business was very vibrant, but we were basically locked into very expensive infrastructure costs and we needed to take stock of what we could do about those.
"You've got to say that [we misjudged the market] because our conception was that there were enough players that wanted to play for money in this environment. The reality is, once they'd played with the bonus money that we provided, not enough people were prepared to deposit more money.
"Given seriously deep pockets we probably could have turned it around, but it was a case of whether we wanted to sink £X million more into the business, or whether we wanted to re-jig it and change the format in order to reduce some of our fixed costs."
Pearcey says Tournament.com's current troubles won't affect its licensing deal with Valve.
"Valve are on board with us and we're discussing with them how we want to take the business forward. They know it's in our interest to make money for ourselves and in turn get a revenue stream going for them.
"Our key aims have been to make sure that players and deposits are safe, which they are, and that the key team is ok, which it is. That gives us some breathing space to look at our options, which we're keeping under wraps for the moment."
News-Source
:
Next-Gen