International Development Group's Q3 report on the future of the game industry has been released, and Next-Gen has some exclusive highlights and stats.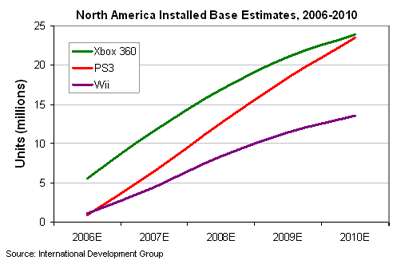 The full report details annual predicted hardware and software sales across all formats in every major North American and Western European territory through to the end of the decade, as well as average sales prices and predicted sales of digital downloads.
IDG and Next-Gen have collaborated to bring you a small portion of the detailed report, with an emphasis here on Xbox 360, Wii and PS3 in the U.S. The full report also covers handhelds and PC games in dozens of countries. You can get more information, and order the report here.
Xbox 360
"Sales of Xbox 360 hardware have remained on a path to achieving an estimated 4.9 million units sold through in North America in 2006 – a significant improvement over the original Xbox's first full calendar year of 3.4 million units.
However, sales still trail the PS2's impressive "GTA‐fueled" 6.1 million units in its first full calendar year of 2001, and the system continues to be outsold on a monthly basis by the PS2 today. The 2006 holiday season will prove particularly important as the industry's first live test of next‐ generation console market share.
IDG does not anticipate a price reduction on the core Xbox 360 hardware in 2006, but bundling at the retailer level seems likely. Sales should also benefit from the constricted supply of both PS3 and Wii. The installed base of the Xbox 360 is also projected to lead all other next‐gen platforms until 2009."
ESTIMATED NORTH AMERICA HARDWARE SALES and INSTALLED BASE
2006
4.9 Million / 5.6 million
2007
6 Million / 11.6 million
2008
5.3 million / 16.9 million
2009
4.1 million / 21.1 million
2010
2.8 million / 23.9 million
PlayStation 3
"The PlayStation 3 launch continues to weather difficult news however, such as the delay of the European launch to Spring 2007 and a pre‐launch price reduction on PS3 hardware in the Japan market generally perceived to be reactive to Japanese consumer sentiment. IDG has adjusted its forecast model to account for the new launch statistics, and the ripple‐through effects are substantial.
Sony may be unable to catch Microsoft's installed base lead from the Xbox 360 until 2010. For the industry as a whole, however, the smaller launch inventory is not expected to significantly impact total market size for 2006 or 2007, as spending will likely just shift to substitute products.
From a market share perspective, a more balanced market structure between the three new consoles now seems even more probable. Publishers appear to have adjusted their portfolios to minimize exposure from any individual system (although Microsoft recently announced several 360‐exclusive third party console titles).
IDG's projections show that Sony will still "win" the race, as its brand remains strong
(particularly so in several European markets). However, winning the race may only mean being on the larger side of a 55/45 split, and will be a longer and more difficult battle."
ESTIMATED NORTH AMERICA HARDWARE SALES and INSTALLED BASE
2006
0.9 Million / 0.9 million
2007
5.6 million / 6.5 million
2008
6.3 million / 12.7 million
2009
5.6 million / 18.4 million
2010
5.2 million / 23.5 million
Nintendo Wii
"Nintendo's confirmation of a global Wii launch in November/December and Sony's reduced launch quantities have given many observers an increased degree of confidence in Wii's prospects for 2006 and 2007. Nintendo certainly stands to benefit from reduced PS3 inventories in North America and Europe, and the reintroduction of the launch bundle makes Wii the only self‐contained gaming gift option.
The bundling of Wii Sports is likely to dampen initial software‐to‐hardware tie ratios however, at least for early purchases. This is only an issue for third party publishers, since Nintendo still benefits from the sale. IDG does not expect the bundle to reduce the tie ratio by a full software unit as many consumers can still be expected to purchase an initial library of games – particularly given the system's position as theleast expensive of the three new platforms."
ESTIMATED NORTH AMERICA HARDWARE SALES and INSTALLED BASE
2006
1.1 Million / 1.1 million
2007
3.4 million / 4.5 million
2008
3.9 million / 8.4 million
2009
3.1 million / 11.4 million
2010
2.2 million / 13.6 million
News-Source
www.next-gen.biz