| | | |
| --- | --- | --- |
| | Xbox Live Games With Gold For May 2018 | |
Xbox Live Games With Gold For May 2018

For the month of May, Xbox Live Gold members will receive four new free games – two on Xbox One and two on Xbox 360 – as part of the Games with Gold program. You can play both Xbox 360 titles on your Xbox One with Backward Compatibility.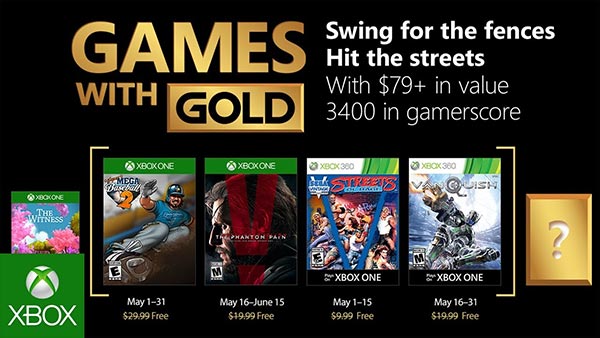 Play together with Xbox Live Gold. May's 2018 Games with Gold lineup for Xbox One includes: Super Mega Baseball 2 and Metal Gear Solid V: The Phantom Pain. For Xbox 360 owners (and through Xbox One backward compatibility), May kicks off with Sega Vintage Collection: Streets of Rage, followed by Vanquish. May's Games with Gold lineup provides over $79 dollars in value and up to 3400 in gamerscore.
On Xbox One, Xbox Live Gold members can download Super Mega Baseball 2 for free during the month of May. Metal Gear Solid V: The Phantom Pain will be available as a free download from May 16th to June 15th.

On Xbox 360, starting May 1st, Streets Of Rage will be free for Xbox Live Gold members through May 15th. Then on May 16th, Xbox Live Gold Members can download Vanquish for free through May 30th.

See last month's Games With Gold here
For more information on all of the games mentioned, please check out all of our Xbox coverage via the
Xbox Games database
and don't forget to follow us on Twitter, YouTube, Google+ and Facebook for all of the latest Xbox news, previews,
Upcoming Xbox One Games, release dates
,
Xbox Screenshots and wallpapers
,
Xbox One Videos and gameplay
,
ID@Xbox games
,
Xbox Achievements
and
Games with Gold
updates."
---
Friday, April 20 @ 22:11:43 CDT (30 Page Views)
(Read More... | 3532 bytes more | comments? | Score: 0)
published by: forahobby | Discuss in our Forums: here
| | | |
| --- | --- | --- |
| | Combat Tech Special Edition Xbox Wireless Controllers Announced | |
Combat Tech Special Edition Xbox Wireless Controllers Announced

Bree White, Global Product Marketing Manager on the Xbox Team, shares details about the new Combat Tech Special Edition controller releasing later this month.
Last spring, we debuted the
Xbox Wireless Controller Tech Series
– a line of special edition controllers inspired by military technology and performance patterns found in combat vehicles. Today, we're excited to announce the third controller in the Tech Series, the Xbox Wireless Controller – Combat Tech Special Edition.
Pre-Order Xbox Wireless Controller – Combat Tech Special Edition from Microsoft Store
The Xbox Wireless Controller – Combat Tech Special Edition embodies a traditional army color palette with its classic Military Green base color (the same Military Green offered through Xbox Design Lab), bright orange accents and military insignia. Like the Recon Tech and Patrol Tech controllers that came before it, the Combat Tech controller features a textured laser-etched grip on the front of the controller and rubberized diamond grips on the back to help you stay on target. In select regions, you'll get 14-day trials for Xbox Live Gold and Xbox Game Pass. The Xbox Wireless Controller – Combat Tech Special Edition will be available for $69.99 USD and will start shipping to participating retailers worldwide, including Microsoft Store, on March 27."
---
Thursday, March 01 @ 15:52:38 CST (96 Page Views)
(Read More... | 4875 bytes more | comments? | Score: 0)
published by: forahobby | Discuss in our Forums: here
| | | |
| --- | --- | --- |
| | Cuphead for Xbox Review | |
Cuphead for Xbox Review

Cuphead is like an old cartoon from the 1930's and has a simple story to go with it. A small cup and his mug buddy fight a horde of villains and their bosses in order to save their souls. And that is it.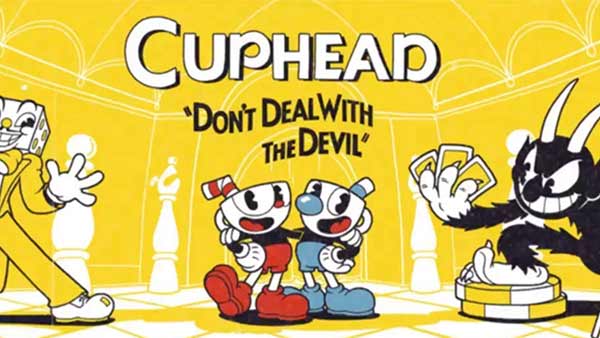 The game is developed by Studio MDHR for the Xbox, and the first impression is that it is a difficult side-scrolling shooter with relentless boss battles that demand rapid-fire actions and reactions. So it is a hard game to play, but also it is an interesting game that drives you to be better and better every time you play it. This game turns players into perfectionists.
The game itself is a mixture of levels, mini-levels, and straight-up boss fights. Difficult battles only tell half of the story, because Cuphead's 1930s cartoon aesthetic is endlessly charming, eye-pleasing and fun. Cuphead's a hand-drawn art-style is simply delightful to watch. The beautiful art is complemented by catchy music full of piano claps and rowdy brass. It's hard to get frustrated at the game's tougher moments when everything on screen is so colorful.
The bosses are the main attraction, however. They make you work for it. You need to recognize the pattern and to read your opponent well, in order to get to the next level successfully. Every boss starts with basic, simple attacks before they ramp up their cruelty as their health is reduced. When you think they are almost beaten, they will summon some extra minions, or they will start a new pattern of attacks, that will require you to have an extra concentration in order to win the battle against them.
Each boss has a series of evolving moves, and it's remarkable just how much variety you encounter not just between one boss and the next, but within a single fight. For example, at one of the boss fights you will fight against two frogs, with each frog have their own pattern. You fight with them for a couple of minutes and after the long and successful fight one frog gets swallowed by another frog and they turn into a giant slot machine that starts to blast coins at you!?!"
---
Thursday, March 01 @ 15:23:39 CST (120 Page Views)
(Read More... | 6541 bytes more | comments? | Score: 0)
published by: forahobby | Discuss in our Forums: here
| | | |
| --- | --- | --- |
| | New Xbox One X Enhanced Xbox 360 Games & Features | |
New Xbox One X Enhanced Xbox 360 Games & Features

Starting today, four new Xbox 360 titles will be enhanced for Xbox One X, which includes The Witcher 2: Assassins of Kings, Forza Horizon, Fable Anniversary and Crackdown, the newest addition available now in the Xbox One Backward Compatibility library. We're also excited to release a new graphics setting for enhanced Xbox 360 titles on Xbox One X to give you more control over your gaming experience.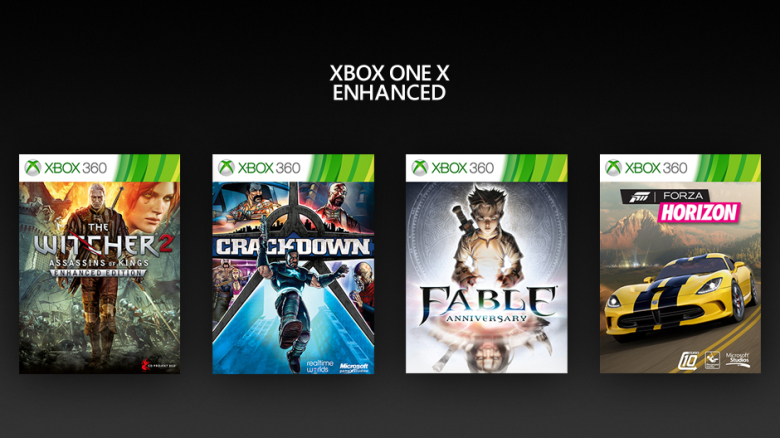 Xbox 360 games that are enhanced for Xbox One X run at a higher resolution and 9X the original pixel count on Xbox One X. The power of Xbox One X enables the Xbox 360 emulator to showcase the very best version of the game possible with the existing assets—all without touching the game code. Today's additions join the seven previously released Enhanced Xbox 360 titles like Halo 3, Skate 3, and Gears of War 3 for a total of 11 Xbox One X Enhanced Xbox 360 games.
Here is the full list of Xbox 360 games that are in the Xbox One X Enhanced catalog:
When you play Enhanced Xbox 360 games on Xbox One X, you can now choose how to experience them—with enhanced graphics or in their original form. Enhanced graphics will be turned on by default, running your game with higher resolution, 9X the pixel count, increased texture details and antialiasing, allowing you to enjoy greater visual clarity than ever before. If you turn off the Graphics setting, the graphics will be comparable to the experience on Xbox One or Xbox One S. Here's how to access the setting. Note, once you change the setting, you'll need to restart the game:
Press "View" and "Menu" buttons on the controller to pull up the Xbox 360 guide
Navigate to "Settings" blade
Select "Xbox One X Settings"
Select to optimize for "Graphics" or "Performance"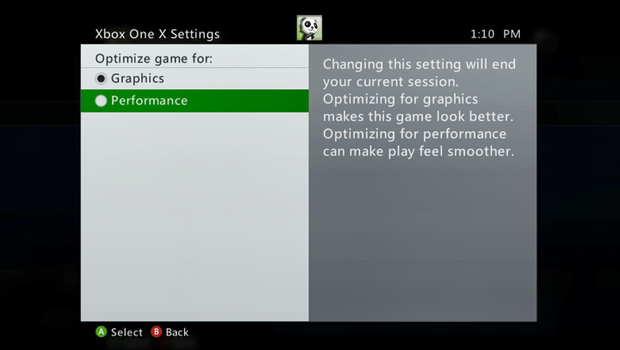 We're thrilled with the continued excitement for Xbox One Backward Compatibility—the community has played more than 840 million hours of Xbox 360 games on Xbox One. Compatibility is important to Xbox, to developers and their games, and our community. Preserving the art form of video games is part of our DNA, which is why Xbox One is the only console designed to play the best games of the past, present and future. We're excited to continue to deliver on our vision of compatibility and grow our current Backward Compatible library, which includes more than 460 Xbox 360 games, 11 Xbox One X Enhanced Xbox 360 titles, and 13 Original Xbox games.
"
---
Wednesday, February 28 @ 07:09:51 CST (96 Page Views)
(comments? | Score: 0)
published by: XboxOneGamer | Discuss in our Forums: here
| | | |
| --- | --- | --- |
| | 7 Popular Casino Games on Xbox - The Magic Seven Games on XBox | |
7 Popular Casino Games on Xbox - The Magic Seven Games on XBox

In the limitless world of online gaming the casino has thread its way a long time ago. You don't have to hit the road to Vegas anymore to get the thrill and experience of casino, it is enough that you have a computer, phone or a console, internet connection and that you are at least 18 years old.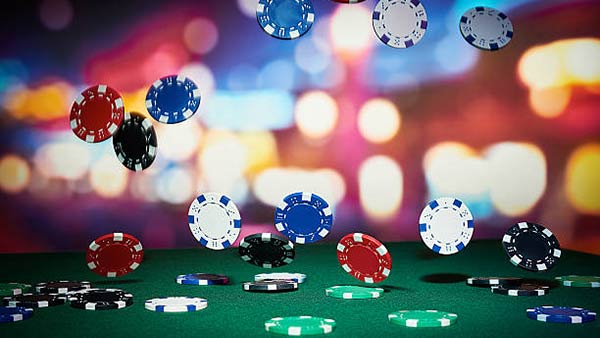 There are games that you play with real money, but if you are a beginner it is better to play some free online versions of games first and see what kind of game suits you the most. Slots with bonuses are always good to begin with because they are very simple to play. If you've ever played fruit machines in land based or online casinos you will know how to use slots. The thing with online slots is that there are countless possibilities with variety of themes, bonuses, etc.
As casino online games bring loads of income and players to their hosts the console game developers decided it was time for them to seize their slice of this giant cake. So nowadays there's a range of entertaining casino games for Xbox as well as for other famous consoles. Xbox games are known for amazing graphics, audio and gameplay. Anyhow, they are missing one true thrill of gambling – a chance to win some real money. For those who like to play it safe, or just can't let go of their consoles yet and replace them with smartphones or computers, here are top 7 casino games for Xbox to try their luck.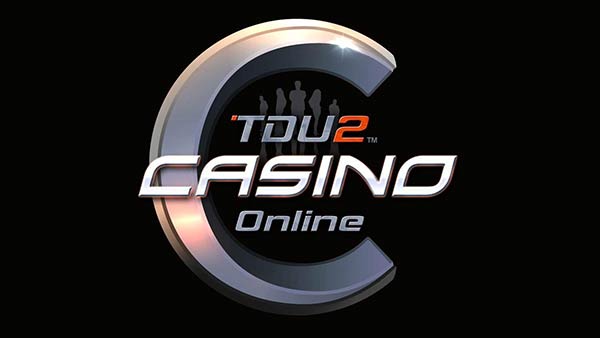 This game offers most of the famous casino games – Roulette, Blackjack, Slots, but it also satisfies the car lovers, as they have a chance to unlock some exotic luxury cars by winning in the casino. It also has the personalized avatars. The players win trophies upon their success in the game, there are seven bronze and three silver exclusive trophies.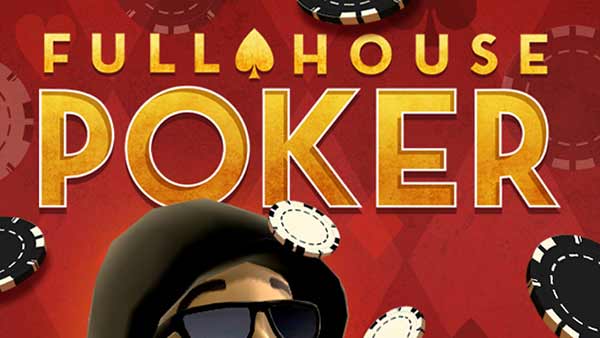 There's a reason why this game is one of the most famous casino games. Beside all the features that competition offers Full house poker provides you a number of text and video tutorials, in case you are not familiar or not very skilled Texas Hold'Em player. There is also a unique rewarding system, where players are ranked, not only by chips amount, but also by the experience, and experience points can be given for losing with a strong hand, or knowing when to fold a bad one as well as for the winning.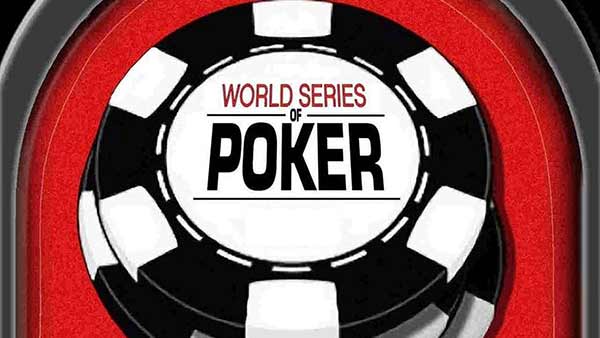 Released from
Microsoft studios
, this game gives a player complete experience of playing pro with real opponents from all around the world and in astonishing 3D environment. It is available free of charge on Xbox live and players also get free chips every 12 hours. Players can personalize their game avatar by accessories and enjoy playing even more with real WOSP on ESPN announcers Lon McEachern and Norman Chad that comment the game and follow their every move."
---
Wednesday, February 28 @ 05:40:44 CST (180 Page Views)
(Read More... | 8667 bytes more | comments? | Score: 0)
published by: XboxOneGamer | Discuss in our Forums: here

| | | |
| --- | --- | --- |
| | Site Statistics | |
| | | |
| --- | --- | --- |
| | Site Statistics | |

HQ Online Statistics
Members: 1 | Guests: 641 | Xbox Live Tags: 4,384


Forums
Active Users: 252

Profile
Active Users: 87

Your Account
Active Users: 86

News
Active Users: 61

Xbox Tutorials
Active Users: 38

Home
Active Users: 29

Xbox Games
Active Users: 28

Downloads
Active Users: 22

XBOXLive Tags
Active Users: 9

Xbox Homebrew
Active Users: 8

View More Detailed Statistics
| | | |
| --- | --- | --- |
| | Site Statistics | |
| | | |
| --- | --- | --- |
| | Xbox Download Stats | |
| | | |
| --- | --- | --- |
| | HQ Network Affiliates | |
| | | |
| --- | --- | --- |
| | Xbox-Hq.Com - Archived News | |

Monday, February 26
Xbox Games With Gold for March 2018 Announced
published by: forahobby | Page Views: 94 | Comments: 0
Pure Hold'em: Full House Poker Bundle Out Now
published by: forahobby | Page Views: 255 | Comments: 0

Friday, February 16
Why is it Worth to Try Xbox Casino Games?
published by: forahobby | Page Views: 199 | Comments: 0

Thursday, January 25
Xbox Games With Gold for February 2018 Reveal
published by: forahobby | Page Views: 161 | Comments: 0
METAL GEAR SURVIVE Digital Pre-Order Now Avai
published by: forahobby | Page Views: 138 | Comments: 0
PUBG Passes 3 Million Players On Xbox One
published by: forahobby | Page Views: 140 | Comments: 0

Thursday, November 23
Xbox Live Games With Gold Revealed For Decemb
published by: forahobby | Page Views: 229 | Comments: 0
Battlestar Galactica Deadlock Digital Pre-ord
published by: forahobby | Page Views: 234 | Comments: 0
Experience Xbox Games With Windows Sonic And
published by: forahobby | Page Views: 270 | Comments: 0
HITMAN Game Of The Year Edition Is Now Availa
published by: forahobby | Page Views: 228 | Comments: 0
EA SPORTS UFC 3 Now Available For Digital Pre
published by: forahobby | Page Views: 260 | Comments: 0

Wednesday, November 22
Games That Boost Brainpower
published by: forahobby | Page Views: 400 | Comments: 0

Monday, November 13
PUBG Xbox One Release Date Set For December 1
published by: forahobby | Page Views: 286 | Comments: 0

Saturday, October 28
Xbox Live Games With Gold List for November 2
published by: forahobby | Page Views: 277 | Comments: 0
Just Dance 2018 Available Now On Xbox One, PS
published by: forahobby | Page Views: 272 | Comments: 0
Four New Xbox One S Bundles Available Now
published by: forahobby | Page Views: 311 | Comments: 0
The House Always Wins: What That Really Means
published by: forahobby | Page Views: 278 | Comments: 0
ARK: Survival Evolved Explorer's Edition Is O
published by: forahobby | Page Views: 250 | Comments: 0

Sunday, September 03
Microsoft announces over 100 Xbox One X 'Enha
published by: forahobby | Page Views: 498 | Comments: 0
Free-to-play ARPG 'Path of Exile' Out Now On
published by: forahobby | Page Views: 338 | Comments: 0
Top 3 casino games for the Xbox platform
published by: forahobby | Page Views: 565 | Comments: 0

Sunday, August 27
New 'Minecraft' Xbox One S Console & Wireless
published by: forahobby | Page Views: 313 | Comments: 0

Friday, August 25
Xbox Live Games With Gold For September Revea
published by: forahobby | Page Views: 399 | Comments: 0

Saturday, August 19
eSports - coming to a screen near you
published by: forahobby | Page Views: 466 | Comments: 0

Monday, August 14
EA SPORTS NHL 18 Now Available for Digital Pr
published by: forahobby | Page Views: 354 | Comments: 0
Titanfall 2: Ultimate Edition Out Now on Xbox
published by: forahobby | Page Views: 337 | Comments: 0
The Sims 4 Is Now Available for Digital Pre-o
published by: forahobby | Page Views: 383 | Comments: 0
Big Ant Studios 'Rugby League Live 4' Hits Xb
published by: forahobby | Page Views: 362 | Comments: 0
Resident Evil Revelations Now Available for D
published by: forahobby | Page Views: 306 | Comments: 0

Monday, July 31
Top 7 Casino Games for Xbox
published by: forahobby | Page Views: 647 | Comments: 0

Friday, June 16
Introducing Xbox One X - The World's Most Pow
published by: forahobby | Page Views: 507 | Comments: 0
DiRT 4 Races Onto Xbox One, PS4 and PC - Out
published by: forahobby | Page Views: 421 | Comments: 0
'FIFA 18' Digital Pre-order Details For Xbox
published by: forahobby | Page Views: 386 | Comments: 0
Need For Speed Payback Now Available For Digi
published by: forahobby | Page Views: 405 | Comments: 0
'TEKKEN 7' - Out Now On Xbox One, PS4, And PC
published by: forahobby | Page Views: 355 | Comments: 0

Thursday, June 08
Far Cry 5 Is Now Available For Digital Pre-or
published by: forahobby | Page Views: 439 | Comments: 0

Sunday, June 04
Xbox Live Games With Gold For June 2017
published by: forahobby | Page Views: 442 | Comments: 0
'Madden NFL 18' Digital Pre-order And Pre-dow
published by: forahobby | Page Views: 471 | Comments: 0
NBA 2K18 Is Available For Digital Pre-order O
published by: forahobby | Page Views: 432 | Comments: 0
DICE Confirms Female Soldiers For Battlefield
published by: forahobby | Page Views: 448 | Comments: 0


News Archive


| | | |
| --- | --- | --- |
| | Popular Xbox Games | |
Abducted
Page Views: 345363

Abducted is a cinematic survival/horror game set in a fantastical future. Expect to see some of the most immersive enviroments ever put to gameplay. The Abducted engines is a bleeding edge piece of so..

More Xbox Games